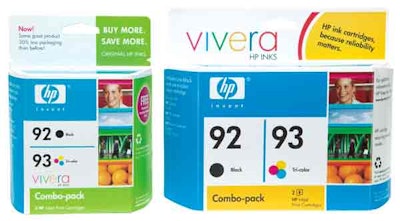 The redesign of its North American print cartridge packaging, HP said, will reduce greenhouse gas emissions by an estimated 37 million pounds in 2007—the equivalent of taking 3,600 cars off the road for a year. The company said its redesigned ink and toner supplies packaging will:
• Eliminate the use of nearly 15 million pounds of materials, including 3 million pounds of corrugated board in 2007
• Eliminate the use of more than 6.8 million pounds of PVC through material reduction and substitution of recycled content, both paperboard and plastic
• Reduce overall package weight for inkjet cartridge multi-packs by 80 percent and quadruple the number of packages that can be carried per truckload
• In club stores, tri-packs will be stacked three high versus two high for the current generation, and the number of packages per foot of retail shelf space will increase as well
• Reduce LaserJet toner packaging 45 percent by weight and improve by 30 percent the number of toner packages per pallet
• Corresponding savings in shelf space will be 30 percent
The redesigned packaging is not only about being green, but at the same time, and justifiably so, about benefits to the bottom line. Just think of all that material HP doesn't have to buy, process, and transport, not to mention increasing the number of products per foot of retail and club store shelf space.
Scott Canonico, manager, Environmental Policy and Strategy for HP's printing and supplies business, put these developments into context. "There are three areas of priority focus across HP in terms of sustainable practices—energy efficiency, materials innovation, and design for recyclability."
In terms of materials innovation and recyclability, Canonico said the company is moving away from a number of packaging materials, including PVC, and discovering greater uses for recycled content. He says, "We are looking to find ways to do more, or the same, with less. When we reduce the size and weight of packaging, we take positive steps forward."
For the past several years, inkjet packaging engineers have used an HP-developed assessment tool to score packaging design decisions. The tool's metrics include materials, transportation, and recyclability. By tracking and comparing scores generated by the system, engineers spur incremental packaging improvements.
Jill Wollam, who holds a packaging degree from Michigan State University and a packaging professional certification from the IOPP, is a packaging engineer and new product planner for HP's LaserJet supplies business. She advises packaging organizations to begin the sustainable process by benchmarking where the organization is today in terms of materials, package size, and recyclability.
Wollam suggests packaging teams first of all work to improve benchmark scores on new packages:
• Increasing the content of recycled materials
• Designing smaller and lighter packaging that adequately protects the product, while decreasing transportation impacts and improving customer usability
• Creating greater end-of-life recyclability
She says, "Once the design team has moved up this learning curve, it is much easier to strategically and cost effectively apply new materials, new cushions, and new ways of folding to existing packages."
Wollam adds that while size reduction is a straightforward concept, its implementation can be complex. "You have to achieve balance in size reduction, ensuring that smaller packaging meets product protection, transportation, retail handling, marketing, customer usability, and customer disposal or return standards," she says. "You can't solve one problem—size—and then create other problems." Wollam said that one of the keys to size reduction is working with suppliers to identify new alternatives in cushioning.
In a future article in Sustainable Outlook, HP will describe its Design for Environment management process.

Companies in this article