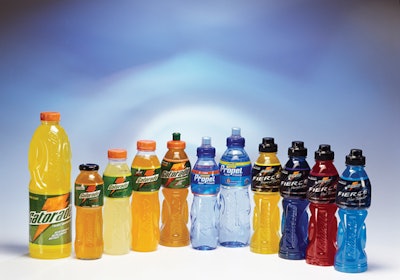 Key is that the beverage containers reflect an innovative, consistent brand image within the constraints—varying sizes and processes—required by different markets throughout the world.
Pepsico approached structural package design firm 4sight inc. with this challenge for Gatorade packaging: Create a global line of custom-branded structural bottles based on a single archetypal shape.
4sight conducted research on both Gatorade and beverages as a whole in homes and on athletic fields across the United States. Researchers found that consumers view and use Gatorade more as a piece of sports equipment than a beverage—an essential part of their workout routine. Use of the bottle is very personal, and the bottle carries associations with grabbing, holding, and gulping.
These insights drove the bottle design, leading to a structural branding concept that communicates the brand's equities through form, function, and aesthetics. The design can be adapted to different packaging materials and filling processes, in the sizes that each market requires.
"The new iconic bottle shape achieves all our directives by being modern, eye-catching, easy to hold, and convenient, as well as representing the high standards of the Gatorade company as hydration experts," says Ken Diveley, vice president of packaging innovation at Pepsi.
The design improves the grip area so it's easier to hold while also intensifying the brand message with visual cues that call sports equipment to mind. These signals position Gatorade as a functional workout drink that hydrates the body.
A central element in the bottle's improved branding is the embossed/debossed Gatorade name and lightning bolt logo in the recessed grip area. The bottle's oval shape resembles a football to convey the notion of sports equipment.
Although U.S. consumers prefer shorter, squat-like bottles with lowly positioned but tall labels, international markets require different proportions. Gatorade's new tall, slender, lightweight packaging appeals to European consumers while also indicating the strength and power elements of the brand's equity.
The grip area uses contours and finger depressions to create visual differentiation and improve handling. In the process, designers transformed the traditional panel area, which included a crinkly label that is used industry-wide, but which consumers have described as uncomfortable to grip.
Companies in this article