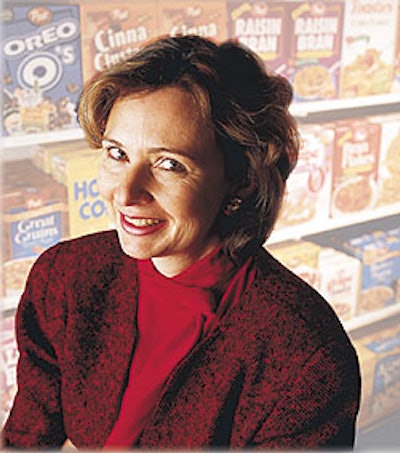 With a network of networks already in place that connects packaging suppliers with packaging buyers—the Internet—what's needed now is software, business practices systems and a workflow that allows the two constituencies to mesh more closely than ever before. That's the vision and focus at Kraft Foods, according to Marcia Glenn, vice president, strategy and e-procurement. Kraft is tackling e-procurement by building next-generation internal procurement systems that will talk to its suppliers' production computers over the Internet using standard communications protocols. Once those foundation systems are in place—which will be used for all direct and indirect materials, not just packaging—Kraft intends to start evaluating packaging e-procurement in particular. Actual packaging e-procurement is slated to start happening this year. Net Sourcing conducted this interview, edited for brevity, to find out more about Kraft's e-procurement intentions.
NS: How will e-procurement enhance packaging supply chain integration at Kraft?
Glenn: I like the analogy of the glass pipeline, where your suppliers are actually able to see [Kraft's materials inventory requirements]. Our suppliers would know what and when we need materials at the exact same time that we do.
NS: So they would just push you more materials. There wouldn't even have to be a person ordering. Is that over the Internet?
Glenn: It can be. This is where a number of the software companies are trying to figure that out. One of the advantages of the Internet and XML [eXtensible Markup Language] is that it is a faster, more flexible way to integrate data and transactions between different companies with different systems [compared with Electronic Data Interchange (EDI)].
NS: What's the objective?
Glenn: To really take cost out of the supply chain . . . by reducing inventories and increasing overall efficiency.
NS: I have to imagine Kraft along with all the other consumer products companies have already gotten pretty good at trimming the supply chain and reducing inventories as far as possible. Is there really much more fat to cut?
Glenn: Yes, but I think about it quite a bit differently than fat. Those [packaging material] inventories play an important role in buffering the supply chain because the information [about the availability of those materials] isn't perfect. When you have more, better, faster information that you're exchanging with suppliers in a real-time way, then you won't have as much of a need for those buffers.
NS: You're currently using Ariba for e-procurement. Will you use it to buy packaging?
Glenn: Ariba is more suited to stock or catalog items. We're using that for our indirect materials, not for packaging.
NS: Because packaging is not a stock item.
Glenn: Right. Many of our packaging items are very integrated into our supply chain.
NS: What about the exchanges? Have you evaluated these packaging exchanges? Are they even on your radar screen?
Glenn: They are definitely on the radar screen. Again, what we have focused on to date is building our [internal] foundation systems first.
NS: Will you use Transora, the consumer products company portal in which Kraft is an investor, for all your packaging e-procurement needs?
Glenn: Transora is our preferred e-business provider, and they are currently developing a number of e-procurement capabilities like reverse auctions. Supply chain collaboration is also in their vision, and we will continually evaluate their capabilities and timelines. But if someone else can get us there faster, we will definitely consider them as well.
NS: Will you buy/reorder materials directly from packaging suppliers' Web sites?
Glenn: Our experience to date is we really don't want people punching out to the Internet to [buy directly from] a supplier's Web site. We tend to want a supplier to tailor that to our own buying needs.
NS: Have any suppliers done so yet in packaging?
Glenn: Not in packaging.
NS: Do you have a packaging machinery e-procurement strategy?
Glenn: We're going to be looking at that down the road, but it is not on our near-term radar.
NS: What's your overall goal?
Glenn: The most competitive supply chain operating at the lowest cost. We will gain a competitive advantage by enabling our supply chain faster and better than anyone else's.
NS: Because you've integrated more tightly.
Glenn: Right. Because we have truly made the supply chain more efficient.
NS: So you're not so much focused on getting a lower price.
Glenn: No. That's not where the big dollars come from. I think that collectively we, the industry and the software providers, are really very close to providing improved supply chain visibility. But it's not like anyone has figured this all out yet. Much of what has to be figured out is totally internal to your own supply chain. You have to go figure out the business practices around this collaboration or synchronization. It's the business practice more than the technology.