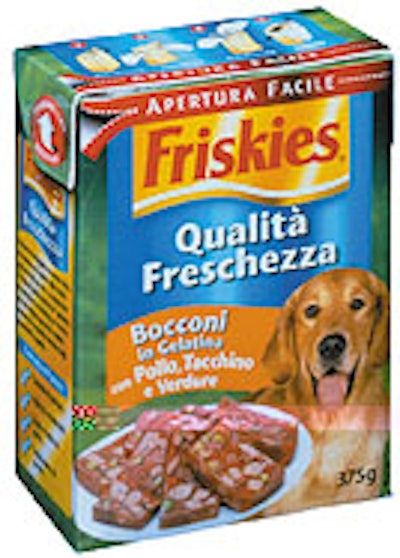 launch, Packaging World is told. It represents a dramatic alternative to shelf-stable foods in jars or cans.
This first application is a 375-g (13.23-oz) carton of a "chunks-in-jelly" dog food in two varieties. The product is a type of "big bite" (bocconi) dog biscuit in a sauce, a texture that is said to be a novelty for the Italian market.
The carton features a laser-scored easy-opening tear strip along the entire top panel of the Tetra Pak-supplied blanks. Marco Settembri of Friskies Italia says, "We think this product will have a strong impact on the packaged petfood market." Currently, the cartoned petfoods are sold only in Italy. Shelf life is 12 months.
On the materials side, Tetra Pak's typical multilayer structure of paper, plastic, and foil for aseptic packages remains the same, with the key exception of a heat-resistant polymer substituting for the usual polymer. So acknowledges Andrew Dun, Tetra Pak vice president of U.S. business development. Tetra Pak declines to specify the polymer.
The machinery is a first-of-its-kind Tetra Recart former/sealer that operates at 400 cartons/min. It erects a carton before a separate, rebuilt filler bottom-fills in two phases (one for solids, one for liquid). Cartons convey back to the form/seal machine for sealing. Cartons are then sent through a batch retort.
Competitive 'wedge'
In the United States, another Tetra Pak-supplied carton was introduced last year for Westsoy and Westbrae-brand nondairy beverages from The Hain Celestial Group, part of The Hain Food Group, Uniondale, NY. The distinctive 186-mL (6.3-oz) Tetra® Wedge® aseptic carton measures 17/8'' x 1½'' at its base, tapering up two sleekly sloped sides to form a sharp triangle.
"We knew there was a market for soy-based drinks in single-serve containers," states Andy Jacobson, president of natural foods and snacks at Hain Celestial. "We felt that [these] were the perfect products to address this void. But we didn't want to just place it on the shelf. We needed a package that would not only keep the soy beverage fresh, but also give it a vibrant shelf presence that will continue to help build the Westsoy brand. The Wedge is a great grab-and-go package."
The packs are co-packed by Nordic Aseptic (Alexandria, MN), part of a wholly owned subsidiary of Stake Technology Ltd. Nordic uses a Tetra Pak Model TBA/19 aseptic form/fill/ seal machine that produces 100 packs/min from a roll-fed six-layer substrate of polyethylene, foil, and paper. The f/f/s machine is equipped with a straw applicator, a final folder (for the package bottom flaps), and an optional dating unit that applies a two-line "best before" date.
In addition to the shape, the package's other distinguishing characteristic is the use of a telescoping straw rather than a typical J-straw. The straw nearly doubles in length, important for the Wedge's height, which at 5¾'' is taller than a comparable brick pack.
The pack size enables a price point from 79¢ to 99¢. "Keeping the retail price under a dollar is important to the products' success," Jacobson emphasizes. Cartons are ink-jet coded for a "best by" 12-month shelf life.
The single-serve packs are available in 15 varieties (13 soy-based and two rice-based). Jacobson informs PW that the number of items will be pared as market and flavor preferences dictate.
While a novelty in the United States, the Tetra Wedge has already appeared in 18 other countries. PW obtained its samples locally for 99¢ each. The products are sold nationally at health food stores and at supermarkets such as Kroger and Fred Meyer. (RL)
Companies in this article