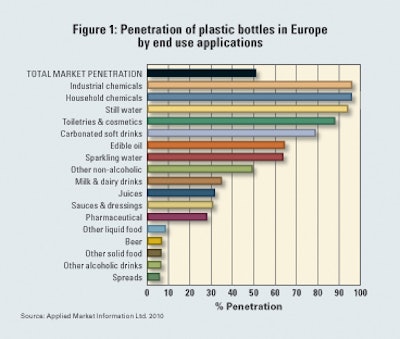 Growth opportunities for blow moulders, especially those in PET, are in no short supply. AMI's research suggests that the latent potential for PET barrier bottles in beer, wine, and milk is equivalent to the current size of the carbonated soft drinks (CSD) market for PET bottles in Europe, which was just under 1 million tonnes in 2009.
Glass is reaching its limits in terms of light-weighting, and there is growing doubt among the brand owners about its ability to evolve with market needs. The growing emphasis on the carbon footprint of packaging supply and end of life management will prove a compelling competitive advantage for plastic packaging. In particular, PET will present an increasingly persuasive case in terms of sustainability, technical performance, and aesthetics. The future growth of the blow moulded bottles business in Europe will increasingly be driven by the growth in PET packaging in new markets.
The potential in beer and alcoholic drinks is highlighted by the low penetration achieved to date with plastic bottles, estimated by AMI to account for just 7% of the packaging for these products in Europe. While PET bottlers have long coveted these markets, without ever achieving that step-change breakthrough, there is now a growing interest in and acceptance of PET for beer and other alcoholic drinks driven by three things: the improved economics of bottle production compared to glass, PET's favourable LCA, and the growing emphasis on pack weight reduction. One litre-plus PET bottles are already widely used for beer packaging in Eastern Europe and here their market penetration is close to 45%. PET bottles work in Eastern Europe because they do not require the same shelf life as in Western Europe. Beer packaged in PET is generally consumed within 5 weeks. However, the monolayer bottles used incorporate an O2 scavenger to support a 4-month-plus shelf life to minimise the risk of spoilage.
In Western Europe, PET beer bottles are predominantly used for sizes of 500mL and below. These can be found in Germany, Switzerland, France, Spain, Italy, and Scandinavia. The drivers behind the introduction of beer in PET bottles in Western Europe have been legislation, the environmental lobby, and the wholesale movement to PET bottles for one-way packaging in Germany. The Western European brewing industry favours integrated blow moulding and filling of one-way PET bottles as the most effective production strategy. However, this is still more expensive than one-way glass bottles, which continues to suppress penetration levels. Over the long term, demand is expected to be buoyed by
• the improving economics of PET, through raw materials cost reduction and production efficiency and scale, making pricing comparable to glass bottles
• the favourable LCA of one-way PET versus glass
• the growing emphasis on and commercial benefits of pack weight reduction.
Even so it is likely to take PET some time yet to knock glass off its perch. At AMI we forecast the demand for PET bottles in this market to advance at around a rate of 10% annually in these applications over the next 3-4 years.
Other opportunities are expected to emerge in food markets, where plastic bottles have yet to make a major impact. The constraint thus far has been the simple fact that high-speed hot filling and retort technologies used to package food already exist for jars, cans, and cartons. However, plastic bottles are expected to be able to make penetration gains over the next few years thanks to growing investment in aseptic cold filling, improved barrier monolayer PET bottles, and the sustainability argument. For example, jam in PET is well established in the USA, and Europe is expected to see an increasing number of introductions in squeezable PET bottles for this product over the next five years.
The UK enjoys the highest penetration level of squeezable bottles for jam in Europe, where they are already widely used for table top sauces. Within the rest of Western Europe steady penetration gains in sauces and spreads will underpin demand growth, whilst demand in Central and Eastern Europe will evolve with the further development of the packaged goods industry. The universal driver is user convenience in terms of squeezability, dosage control, ease of handling and safety, and again, pack light-weighting initiatives.
In the UK, the move into plastic bottles in jams has been led by Premier Foods on the Chivers and Hartleys brands. Supermarket own brands have been close followers. In Germany, the chocolate spread manufacturer Cebe has introduced a PET jar made by Alpla to reduce the pack weight from 198 g (glass) to 23 g. The light weight container has a blown rather than injection moulded neck, saving 5 g in PET.
While beer and solid food markets represent large, untapped opportunities for plastic blow moulded bottles, for now the blow moulded bottles market is still largely driven by developments in the mineral water and household chemicals markets, where plastic bottles account for more than 90% of the packaging used. In these markets the trends are more about inter-material competition, with growing volumes of recycled PET being used in mineral water bottles and growing use of PET bottles in household chemicals packaging thanks to a reduction in the price point of PET versus HDPE and a growing preference for clear packaging to display the product.
Within the bottled water industry in Europe, glass bottles are still used for premium brands served at restaurant tables. However, the development of premium, glass-like PET resins promises to open this niche to plastic bottles over the next five years, as a light-weight, shatterproof alternative with greater scope for design flexibility. For example, Novapet of Spain has developed a glass-like, premium PET resin to produce a thicker-walled bottle, to give it the appearance and haptics of a glass bottle. Although three times heavier than a conventional PET bottle, it is still five times lighter than glass, making a considerable contribution to weight saving in transport, with minimal quality compromise. This may also open up scope for penetration of the table wine and other alcoholic drinks sector.
Product developments in sparkling waters will direct bottle engineering projects towards barrier performance (CO2, O2, vitamins, natural flavourings) as opposed to light weighting initiatives, which will favour lighter weight monolayer solutions over heavier multilayer bottles.
PET's growth in household chemicals
In household chemicals the trends are about inter-material competition. HDPE is the dominant polymer within this market. However, with the substantial reduction in price differential between polyolefins and PET, PET bottles continue to grow their market penetration.
Colgate-Palmolive was the first to switch to PET and Procter & Gamble too has converted all dishwasher products (i.e. Fairy Liquid) and fabric conditioners to PET bottles in Europe, substituting HDPE. Other leading fillers in Germany have also converted.
Yet within companies such as Unilever, Procter & Gamble, and Colgate-Palmolive, the balance of polymers is still broadly 75:25 in favour of HDPE versus PET. This presents a significant substitution opportunity for PET in applications and bottle sizes that don't require a handle or are not subject to tight cost constraints. While growth prospects in general may be promising, the business remains challenging for raw material suppliers and converters alike in Europe. The forward focus for fillers is resource-efficient supply, driving the market toward on-site manufacturing options be it HTW (hole-through-the-wall), self manufacture, or blow moulding of preforms. This is limiting the ability of traditional converters to add value, while for European resin suppliers this is mainly a commodity business increasingly threatened by cheaper Asian and Middle East imports.
The competitive nature of the business is driving consolidation throughout the supply chain and the top 10 moulders accounted for one-third of polymer conversion in Europe for blow moulded bottles in 2009.
Alpla is the clear market leader with a strong position as a supplier of blow moulded bottles, preforms, and HTW services. For 2009 it purchased in excess of half a million tonnes of polymer for its European operations and accounts for more than 10% of the market. The company has built its position through its investment in a network of in-plant blow moulding operations at its customers. Other major blow moulding groups which similarly operate a network of HTW or in-plant operations for the major food and drink companies include Logoplaste, Serioplast, Nampak Plastics Europe, and Graham Packaging. In PET preforms and bottles the leading company is Artentius PET Packaging, which acquired Amcor's PET business in Europe in 2007.
Plastic closures
Given the growth in blow moulded bottles, it is not surprising to see plastic closures as another area of strong growth within the rigid plastics packaging market. With output of more than 220 billion units/year, production had been growing at a rate of nearly 6% per year prior to the recession, with the use of HDPE one-piece closures growing at a rate three percentage points above this. It is estimated that plastic caps and closures now have a market penetration of over 50% of the total closures market in Europe, exceeding metal closures in terms of unit demand. Again, as in bottles, the drivers are cost reduction and light weighting, which is encouraging the use of one-piece closures in preference to two-piece closures.
While standardised one-piece and two-piece beverage closures are the bedrock of the closures business, custom closures represent an even greater opportunity to moulders in terms of added value. They include products such as non-standard diameter flat caps, sports caps, carton mechanisms, and pouch spouts. Growth in this sector of the market is driven by strong demand for sports closures but also by the further development of 38-mm caps and carton mechanisms.
Beverages account for around two-thirds of plastic closures in Europe, in a business driven by developments in still drinks (e.g. sports drinks, juice-based drinks) and the growing penetration of one-way PET bottles replacing cans and cartons. Demand for plastic beer closures is also expected to develop in Europe, fuelled by growing demand for PET bottles in Eastern Europe.
Within non-beverage applications, liquid food is the largest sector of the plastic caps and closures market in Europe. In this segment demand will be driven by increased penetration of PET bottles in dairy applications, and by growing substitution of glass packaging by plastic containers in table top sauces, preserves, baby food, cooking sauces, and dehydrated and snack products.
Heat-stable PET
The development of heat-stable PET barrier containers is opening new markets to plastic closures, such as juices, preserves, pickles, cooking sauces, soups, and baby food, which are traditionally packed in glass containers and sealed with steel vacuum closures. Further opportunities lie in cold-fill applications such as honey.
There will be an increasingly apparent geographical divergence in strategy in Europe. In Eastern Europe, investment will focus on mass production of standard beverage closures to serve the global brands as they move eastwards, while market maturity will steer Western Europe towards de-standardisation through developments in custom 38-mm closures, sports caps, and high performance, light-weight caps for carbonated drinks. Innovation and a sustainable differential advantage will lie at the centre of strategies over the next five years, focused on improved functionality, convenience and modernity.
Consolidation in this sector is even greater than in blow moulding, with the top ten manufacturers accounting for around 60% of polymer usage for closures. The industry is expected to concentrate further in future as a result of consolidation among the brand owners; the higher levels of R&D and technical expertise required in plastic closure development; the requirement for quality standardisation on a pan-European if not global basis; and growing competition from closure manufacturers outside EU-27. AMI's research suggest that the sector could lose up to 150 companies over the next five years in an industry which currently involves as many as 500 manufacturers across Europe.
Carole Kluth is a senior research manager with Applied Market Information Ltd. She can be reached at cmk@amiplastics.com.