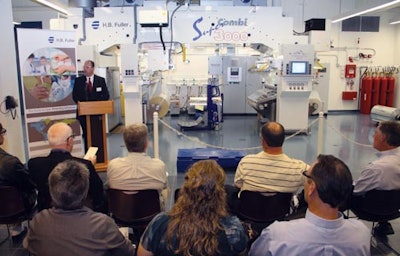 H.B. Fuller, the global adhesives, sealants, paints, and specialty chemical products manufacturer, organized in late September a thought-provoking symposium for 50 converters on strategies for converters to grow in the flexible packaging industry
.
Through presentations and a question-and-answer session with representatives from Frito Lay, General Mills, Pepperidge Farm, PTIS, and the Wm. Wrigley Jr. Company, participants received an overview of global flexible packaging markets. These discussions, as well as demonstrations of faster time to market through a state-of-the-art pilot facility and a tour of H.B. Fuller's analytical testing lab, illustrated three facts about the flexible packaging market.
• Consumer packaged goods companies (CPGs) are hungry for innovation, and converters that deliver innovation and new capabilities will win their business
• Flexible packaging offers cost and sustainability advantages that are driving growth in that segment of the market
• H.B. Fuller has positioned itself for leadership in the flexible packaging materials market by making significant investments in new and innovative adhesives as well as in new pilot plant capabilities, which feature a Nordmeccanica Super Combi 3000 laminator.
CPGs are moving toward "open innovation"
Industry consultant and PTIS co-founder Brian Wagner's message to converters at the symposium was to bring something new to the table beyond price. "What we are hearing more and more is that converters should not wait for brand owners to tell you what it is they think they want," he said.
Wagner urged converters to, "Go out and be proactive by doing your own consumer research and learning about the latest retail trends. Bring CPGs relevant solutions and show how those solutions will engage consumers and retailers. Look for ways of quantifying value beyond price to help your contacts sell the solution to their companies. Don't let cost get in the way too early. Consumer value may overcome that issue later."
CPG panelist Matthew Lorence, packaging technology manager at General Mills, said that until fairly recently General Mills looked to its own laboratories for innovation. "Now 'the world' is General Mills laboratory," he told the group. As a proof point Lorence quoted company CEO Ken Powell on the new emphasis at General Mills on what the company calls "open innovation."
"We believe that there is a great opportunity for us to enhance and accelerate our innovations efforts by teaming up with world-class innovators from outside of our company."
General Mills has gone so far as to develop a Web site (https://openinnovation.generalmills.com) that outlines its needs and solicits ideas.
Eva Peters, director of packaging development for Pepperidge Farm, said to the symposium's audience, "The more you know about our business, the easier it will be to move forward with us. Clearly understanding consumers and retailers and coming to us with new and differentiating offerings is what we look for in innovative suppliers."
The innovations CPGs are looking for
Brad Rogers, Frito Lay R&D manager of sustainable packaging and advanced materials research, wants to work with suppliers that can help deliver "something unique to the consumer beyond protecting the product. These can be in the areas of recyclable, degradable, compostable materials or perhaps a more natural tactile feel." Similarly, Wrigley's Jim Bougoulas, packaging manager for North America, looks for ways to differentiate the company's brands through touch and shelf appeal. He also emphasized the need, as did Eva Peters of Pepperidge Farm, for new cost-effective barrier properties to protect flavors longer. Strategies for lowering damage are also important.
The panelists from General Mills, Pepperidge Farm, and Wrigley indicated interest in easy open and reseal technologies that add to the consumer's positive experience with the package while preserving freshness. The panelists agreed they want solutions that run on the existing asset base without major capital investment. General Mills' Lorence said that suppliers with capabilities to run new types of packaging will be in demand because it is more cost effective for the CPG to outsource to companies with the asset base required to run the innovative package. He believes that some of the highest areas of growth for the CPGs will be working with suppliers that can deliver packaging innovations for new brands.
Each panelist said that cost remains an important criterion, but that the total value over the life of the package influences decisions. "It's not always about the actual cost of the material," said Peters from Pepperidge Farm. "We want to look at the overall benefit." She told the story of Pepperidge Farm's Deli Flats brand and how the extra cost of the packaging almost derailed what has become a sales success.
Flexible packaging market growth
Manfred Roemer, technical consultant to H.B. Fuller, presented information showing that stand-up pouches are expected to grow to nearly 25 billion packages annually, up from about 14 billion in 2004. Material savings, lower overall transportation costs, higher cube utilization, and an increasing number of convenience features all play into the growth equation.
In the future, areas of highest flexible packaging growth will be in food, pet food, and beverage applications. Roemer said that stand-up pouches will continue to replace tin and glass. Convenience packaging that offers re-closeable, easy to open, microwaveable, oven compatibility, and other features, will become more important. CPG and supplier response time, cost, and performance will all play even bigger roles than they do today.
New adhesives

At several points during the symposium, converters were in the H.B. Fuller Pilot Facility gathered around a new Nordmeccanica Super Combi 3000 laminator. The flexible packaging pilot team ran a total of four wide-web tests at speeds ranging from 800 to 1,300 feet per minute using both solvent and solventless adhesives. The Super Combi also handles water-based adhesives. The laminator allows H.B. Fuller to rapidly test various adhesives, at production speed, guaranteeing greater accuracy in piloting solutions.
Brian Glasbrenner, H.B. Fuller North American flexible packaging sales manager, said, "We believe this new lamination capability is the most accurate and fastest way in the United States to qualify a lamination without actually running it on your equipment."
Also during the symposium, converters toured the company's state-of-the-art analytical laboratory where the properties of adhesives and substrates of laminations are analyzed for customers. Small groups of converters discussed with technical personnel the newest adhesives for easy open and re-sealable packaging as well as hot melt, water-based, and reactive heat-seal formulations.
H.B. Fuller Chief Executive Officer Michele Volpi talked about recent investments in flexible packaging capabilities. "We were not willing to wait until the economy picked up to invest in the future of flexible packaging," he said. "One year ago we acquired German-based Nordic Adhesives Technology. We spent more than a year getting to know Nordmeccanica Group and becoming a partner with them before installing this new laminator. We have added experienced personnel to our flexible packaging team, and it has all been focused on giving our customers flexible packaging adhesives capabilities they won't be able to find anywhere else."