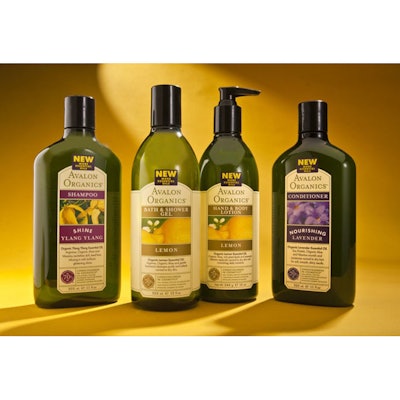 The Hain Celestial Group Inc. of Melville, NY, has converted its Avalon Organics® personal care product line to 100% post-consumer recycled PET bottles from Amcor Rigid Plastics.The conversion from 100% virgin PET resin to 100% PCR resin is a first for the personal care division of Hain Celestial, a leading natural and organic products company in North America and Europe.
According to Hain Celestial, it gained major sustainability benefits with the switch to PCR PET resin for its Avalon Organics 11-oz flask (oval) bottles for shampoo and conditioner and its 12-oz bullet (round) containers for hand soap, bath and shower gel, and hand and body lotion. By converting to 100% PCR resin, Hain Celestial lowered the the carbon footprint of the packages by 46%, resulting in an annual reduction of about 258,000 kg of CO2 emissions, while energy consumption was reduced by 71%. Moreover, the use of 100% PCR resin will result in the elimination of nearly 4 million PET bottles per year from landfills, the company relates.
"Among our primary business priorities is reducing the environmental impact of all our products," explains Manuel Mosqueda, senior manager, packaging engineering for Hain Celestial. "This first use of PCR PET resin for Avalon Organics, one of our largest personal care brands, has delivered impressive results and shows we are committed to meeting our sustainability goals.
"Due to slight modifications in bottle configuration and without adding weight, Amcor was able to deliver greater bottle performance with a more rigid and robust container that was easier to fill and label."
Hain Celestial was also able to reduce supply costs and further lower energy consumption and carbon footprint by sourcing bottles from Amcor's Commerce, CA, manufacturing facility after previously purchasing bottles from a Canadian distributor. Amcor recently added capacity for PCR PET bottles at its Commerce plant. Mosqueda also notes that Amcor met Hain Celestial's time-to-market needs by going from final design to delivery in just two months.
Hain Celestial reports that other personal-care products, such as the Alba Botanica® Hawaiian shampoo line, will be converted to 100% PCR PET bottles over the next several months.
Companies in this article