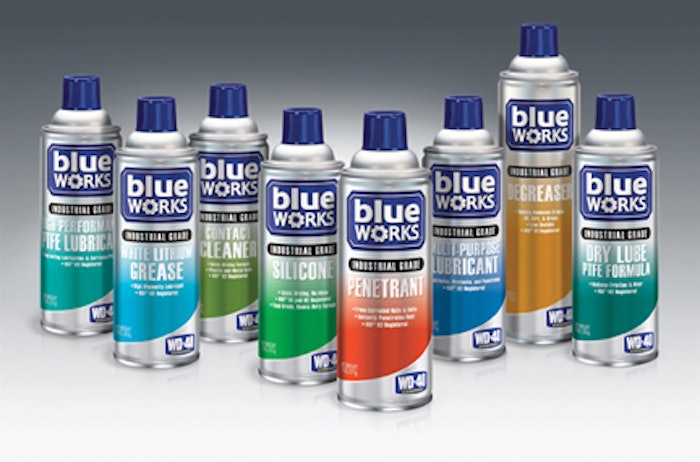 The San Diego, CA-based marketer of lubricant products not only found an appealing, functional package, but also one that would stand the test of time, even under harsh plant environments.
Designed to meet the specific technical requirements of industrial professionals and maintenance workers, the Blue Works line represents the first alternative brand to carry the WD-40 signature. With eight product options in the line, WD-40 required packaging that allows users to easily identify the product they need, and that also enables product-usage instructions and data to remain intact on the package throughout the product's lifetime.
WD-40 initially considered labels but abandoned that idea, citing fears of ripping, tearing, and smudging of essential product information.
The company then turned to Crown Aerosol Packaging North America, a business unit of Crown Holdings Inc. Crown applied decoration directly onto each container, which also lent an industrial look to the finished package. A color-coded system distinguishes each product in the Blue Works family.
Crown worked closely with WD-40 and its design agency, The DuPuis Group, to transfer the original label design, ensure vivid colors and sharp graphics, and produce the first run of containers under a tight deadline. "The cornerstone of the Blue Works brand is superior performance under challenging conditions. It was critical that the package follow suit," says Mike Freeman, division president-The Americas, at WD-40. "Direct decoration proved to be an ideal option and helped us communicate the high quality of the products themselves."
The Blue Works line includes Silicone, High-Performance PTFE Lubricant, Dry Lube PTFE Formula, White Lithium Grease, Multi-Purpose Lubricant, Penetrant, Degreaser, and Contact Cleaner. WD-40 markets the line through industrial outlets.
Companies in this article