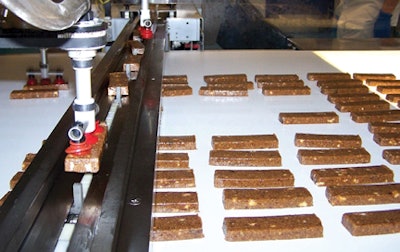 Organic Food Bar was founded in 2001 with a mission to provide easily accessible, nutritious snack products for people on the go. The company's products are now carried in a number of health food and specialty supermarkets throughout North America and the world.
All of the ingredients in Organic Food Bars are certified organic and kosher. The company makes and packages the bars fresh daily and takes great pains to avoid all known food allergens. To eliminate the possibility of contaminants, the Bosch machines had to meet the company's high standards for cleanliness and sanitation. The new equipment includes: a Delfi delta robot feed placer, a Bosch Doboy wrapper, and a Presto delta robot top loader.
After Organic Food Bar makes its line of fresh, organic food products every morning, the bars are conveyed to the Bosch Delfi delta robot feed placer, which is dexterous enough to delicately handle the unwrapped bars without damaging them. The custom-made vacuum-cup end effectors can handle a range of various-sized, fragile products. An integral vision system on the Delfi incorporates pattern recognition to quickly locate bars with extreme accuracy so that the robot can precisely place them at a rate of up to 300/min into the fast-moving lug chain of the Bosch wrapper without slowing the production flow. A color touchscreen HMI facilitates setup and changeover with an intuitive menu.
Once placed into the wrapper infeed chain, the bars are overwrapped by the Bosch rotary-head horizontal wrapper, designed to maximize production uptime. The wrapper creates a complete overwrap around the food bars, using an easily interchangeable former, enabling fast changeovers to wrap many different sized products. The ends of the package are then sealed and cut apart.
To meet Organic Food Bar's stringent cleanliness requirements, the wrapper features a solid steel plate frame and food-grade product contact parts. Its low-backlash end-seal drive is said to ensure dependability. Special software features reduce the chance for food-bar jams and speed recovery if a jam does occur.
Once individually wrapped and sealed, the bars are conveyed to the Presto delta robot top loader, which places the bars into seven-, 10-, or 12-pack paperboard cartons for shipment. The Presto top loader achieves high efficiency and is versatile enough to use with a variety of products and pack patterns. The robot is also easy to use and clean for food applications. Since making the purchase from Bosch, Organic Food Bar has built a brand new facility, transitioning to 100% renewable, clean, and sustainable solar energy. The new Bosch machines are at the heart of the production line, helping the company achieve outputs to 300 bars/min.
Says company founder and CEO Dr. Jack J. Singh, "With the efficiency of Bosch machines working with 100-percent clean and renewable solar energy, we can say with pride that Organic Food Bar is good for your body and good for our world. It's just all good."
Companies in this article