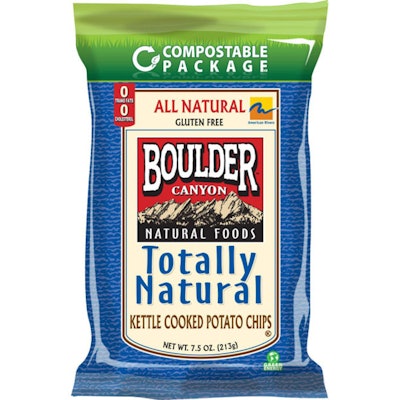 Boulder Canyon™ Natural Foods has unveiled a compostable package for its All Natural Kettle Cooked Potato Chip line. The company believes that the 7.5-oz bag, made from wood pulp sourced from plantations that have Forestry Stewardship Council (FSC) or similar certification, is the first compostable packaging developed for the natural snack food category.
Boulder Canyon relates that its compostable packaging is made from materials that are certified to meet the ASTM 6400 "Specification for Compostable Plastics" standards set by the American Society for Testing and Materials (ASTM). The bag can be composted in home or industrial compost systems, recycled through approved organic recycling programs, or incinerated at modern incineration plants.
The company says that consumers interested in the greening of their snacking won't be forced to pay a big premium for supporting Mother Earth; the cost per-ounce is similar to that of Boulder Canyon chips in standard 5-oz bags. The new packaging is available immediately at Colorado-area Whole Foods stores with a suggested retail price of $3.49 to $3.99 per package.
"At the core of the Boulder Canyon Natural Foods brand is a desire to eat naturally, free of additives and artificial ingredients, while also being good to the planet," says Steve Sklar, senior vice president of marketing for Boulder Canyon. "Our new compostable packaging should make a positive impact on landfill waste, so we're excited to see this day come."
Boulder Canyon is a national sponsor of American Rivers, the leading river conservation organization in the U.S. In addition, the company says it purchases enough Renewable Energy Credits to offset 100% of its operating emissions annually. This effort prevents nearly 3.5 million pounds of carbon dioxide from being emitted into the atmosphere each year, Boulder Canyon claims.
Companies in this article