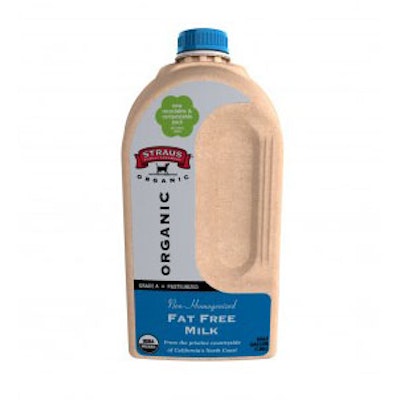 There is a new entrant seeking to solve the sustainable milk-container conundrum. As ClimateofourFuture.com reports, Oakland, CA-based packaging supplier start-up Ecologic has introduced a container made from 100% molded pulp with an inner plastic pouch that is making its commercial debut in the milk aisle. The pack is being used for organic milk products for the Straus Family Creamery at the Oakland Whole Foods store.
The package comprises an outer layer of cardboard that Ecologic says is compostable and biodegradable, coupled with a recyclable plastic pouch that is said to use 70% less plastic than traditional milk jugs. While the milk-jug container offers a typical, rounded shoulder milk jug design, Ecologic says it can create packs in a range of styles.
The Ecologic milk jug is the latest design engineered to deliver milk in a more sustainable manner. Here in the U.S., the stackable 1-gal milk container used by Costco and Sam's Club is a good example of a package optimized for space that also eliminates a tremendous amount of packaging materials during shipping. The drawback? Not all consumers are jazzed about the pourability of the new, square-shaped jug.
For several years, Naturally Iowa has distributed its milk in bottles made from Natureworks' PLA. But there is a cost associated with the use of renewable materials, whether or not it's passed on to the consumer.
In the U.K., a number of replacements for heavy-walled HDPE containers have been introduced. These include the JUGIT plastic pouch that fits into a reusable plastic pitcher, as well as a solution similar to the Ecologic fiber bottle and plastic pouch combo, the GreenBottle for Marybelle milk.
Milk is a commodity, so higher costs and reduced packaging functionality won't sit well with consumers. The real test of the Ecologic solution, as with the above eco-friendly dairy containers, is whether it will meet the convenience needs of the consumer at a cost they can afford.
Companies in this article