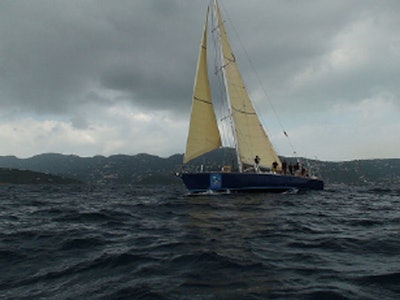 Two marine scientists have set sail for the transatlantic, launching the first global study of the plastic marine pollution that's widely known as the "Great Pacific Garbage Patch," found in the North Pacific Ocean. The study's maiden voyage, from St. Thomas, U.S. Virgin Islands, through the Sargasso Sea, is part of the 5 Gyres Project, which will launch a second sail across the South Atlantic in August.
Participating in and directing the project are researchers Dr. Marcus Eriksen and Anna Cummins, who have worked with Captain Charles Moore, founder of the Algalita Marine Research Foundation (AMRF), documenting the growing accumulation of plastic pollution in the North Pacific Gyre.
"This is a global problem. We're seeing evidence of plastic pollution everywhere in the world, and it's getting worse," says Moore.
Eriksen and Cummins will work with AMRF to deepen their previous research focus, which has been to quantify floating plastics, including micro-plastic fragments consumed by fish. Now they'll look at how this flotsam affects those fish to better understand the human effects of what the Los Angeles Times calls "one of the fastest growing segments of civilization's toxic waste stream," according to the 5 Gyres Project.
"Plastic particles at sea act as magnets for chemicals like DDT, PCBs, flame retardants, and other pollutants," Cummins says. "The 5 Gyres Project is now working to advance our previous research with targeted testing to determine if these chemicals accumulate in fish, travel up the food chain, and end up on our dinner plates.
"There are five gyres in the world, but plastic pollution isn't confined to just one. We plan to gather data from all five." 

During their six-week transatlantic journey, the husband-and-wife team will stop in Bermuda to lecture and to meet with U.S. Consul General Grace Shelton. On Jan. 28 they will set sail for the Azores through the Sargasso Sea, an elongated region in the middle of the North Atlantic surrounded by ocean currents, which form another oceanic gyre. They expect to return to Santa Monica by mid-February.
In August, they will cross the South Atlantic Gyre, which stretches from Rio de Janeiro to Cape Town, South Africa. This is expected to be the first such voyage in some 30 years in the Southern Hemisphere. 

Researchers recommend legislation
Because plastic pollution at sea cannot be cleaned up by any practical means, society must stop the problem at its source, the researchers stress. They advocate legislation that requires companies to take responsibility for recovery and reuse of their products, including economic incentives to promote recovery and bans on single-use disposable products. Responsible legislation will also create tremendous opportunity for smart, innovative alternative products, they say.
"We can't recycle our way out of this mess, nor can we clean up what's already out there," Eriksen says. "We're not looking at an accumulation of large chunks of plastic but a thin, diffuse soup of micro-particles."
While potential human health effects of marine plastic remain unknown, scientists already estimate that nearly half of all seabird species, all sea turtle species, and 22 species of marine mammals are harmed or killed by plastic waste, either from ingestion, entanglement, or strangulation before the debris has been broken down into tiny fragments. 
 

Eriksen and Cummins are maintaining a blog about their trip.