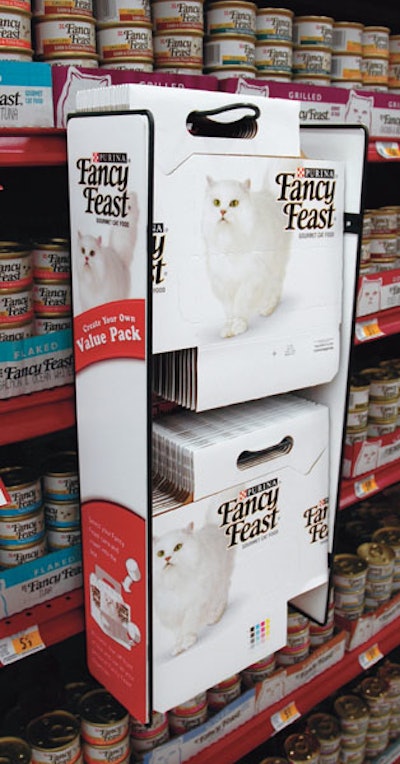 Last year, St. Louis-based Nestlé Purina PetCare held a two-month promotion to increase consumption of its Fancy Feast® gourmet wet cat food and its new Friskies® Party Mix cat treats. The vehicle for the promotion, held regionally in 79 Pet Supplies Plus stores, was a custom-made carrying case created by Display Boys (www.displayboys.com). A designer and manufacturer of premium retail fixtures and environments, Display Boys has worked on projects that range from simple counter displays to full retail aisles for a variety of consumer packaged goods customers.
"When we began working with Display Boys, we knew that we wanted some type of a carrier for Fancy Feast and something that could be mixed and matched by the consumer," relates Heather Greene, account executive at Nestlé Purina PetCare. "So we didn't really have a definitive look in mind, but we kind of knew the concept that we were going after."
With this vision in mind, says Display Boys co-founder and president Darin Rasmussen, the firm set about creating a solution that was "as simple, straightforward, and cost-effective as possible." The result was an attractive, 30-can carrying case made from .020 chipboard that could hang flat on a fixture attached to the gondola display at point-of-purchase and then be easily erected by consumers for filling in the store with their favorite Fancy Feast assortment.
Says Greene, "We were trying to get consumers to buy more cans on that particular shopping trip. That's why we wanted the carrier to hold around 30 cans. Thirty cans is roughly equal to the number of days in a month, so the carrier could provide the consumer with a month's worth of product in one purchase trip."
Cat-food 'Fridge Pack'
Besides acting as a convenient carrying case to transfer cans from store to home, the package also was designed to double as a dispenser once in the consumer's home. A perforated, tear-away panel across the bottom of the carrier allowed consumers to view the available food varieties and easily remove the 3-oz cans. Rasmussen compares the dispensing design to Coke's Fridge Pack concept. "The cans are stacked in the carton. As you pull one can out, gravity sets in, and the next can plops down," he says. "It becomes a little gravity-feed dispenser."
Greene says the dispensing function was a great solution to consumers' challenges with stacking the food cans in the pantry and having them topple over and roll around.
Artwork for the case was created by Display Boys in collaboration with the Fancy Feast brand group and consists of a simple, spare design that aligns with Fancy Feast's gourmet, premium positioning. Offset-printed in five-color process plus a gloss varnish by a proprietary converter, the graphics include the Fancy Feast logo prominently displayed, along with the image of the brand's mascot, a white cat—both against a clean, white background. "It was really just about getting the Fancy Feast name out there," says Greene.
Promo sparks significant lifts
Held in September and October 2008, the Fancy Feast promotion was conducted in three Pet Supplies Plus franchises, including 60 Royal stores in Michigan and Ohio, 10 McQueen stores in Pennsylvania, and nine Lang stores in New York. In September, the promotion allowed consumers to receive a free bag of Friskies Party Mix cat treats—a new product launched just four months earlier—with the purchase of 30 cans of Fancy Feast wet cat food. In October, consumers got three cans of food free with the purchase of 27.
The promotions were a notable success, with overall sales lifts, or sales increases beyond normal movement, of 28% in September and 73% in October. In addition, the Friskies cat treats experienced a 125% lift in September, resulting in a sustained increase in the sale of the treats from that point on, reveals Greene.
While the carrying case was a hit with consumers, one drawback in-store was that it was cumbersome at checkout. Because a higher-priced Fancy Feast product, Elegant Medleys®, comes in the same 3-oz can, cashiers had to empty the entire carrying case at checkout to ensure that customers had loaded the case with the right variety.
With the exception of the checkout challenge, says Rasmussen, the carrying case "made a lot of sense." He adds, "It's an ideal solution for a certain type of consumer, someone who really loves their cat and who is very particular. It gives them the opportunity to get a customized meal selection for their cat."