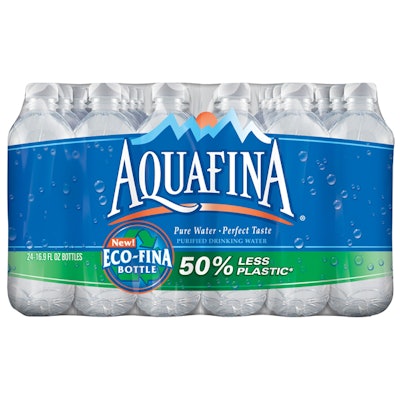 Beginning in April, PepsiCo's Aquafina brand bottled water will be available nationwide in the new Eco-Fina Bottle, the lightest 0.5-L bottle of any nationally distributed bottled water brand in the market, according to PepsiCo. At a weight of just 10.9 g, the Eco-Fina Bottle is made with 50% less plastic than the 0.5-L Aquafina bottles produced in 2002, eliminating an estimated 75 million lb of plastic annually.
In addition to light-weighting the 0.5-L bottle, Aquafina is driving additional environmental benefits by producing the package right at Aquafina purification centers where filling occurs and by eliminating cardboard base pads from Eco-Fina Bottle 24-packs, which will contribute to saving 20 million lb of corrugate by 2010, says PepsiCo.
"The Eco-Fina Bottle represents more than simply innovative packaging design. It showcases our commitment to develop best-in-class products, packages, and manufacturing processes while acting responsibly in everything we do," says Rick Gomez, chief marketing officer, hydration brands at Pepsi-Cola North America Beverages. "We're excited to answer the call of our consumers by offering the same great-tasting, pure water in a much lighter and more eco-friendly 100% recyclable bottle."
The new Eco-Fina Bottle features an eye-catching "rippled web" design that goes beyond aesthetics, ensuring its structural soundness and functionality. New, contemporary shrink-wrap packaging graphics, featuring the Eco-Fina Bottle logo, will further enhance the brand's on-shelf presence.
"Consumer research confirms that we achieved our desired objective, which was a 'sustainable design trifecta' – a bottle that looks better, functions better, and is better for the environment," says Robert Le Bras-Brown, vice president of packaging innovation and development at PepsiCo. "The new design leverages structural engineering that allows the Eco-Fina Bottle to support 50 times its weight in water while offering consumers a contemporary, attractive package that meets their needs."
Related sustainability initiatives
PepsiCo reports that it continues to explore newer ways to achieve optimal efficiency in the use of natural resources in the development, manufacturing, packaging, and distribution of all of its products. The company has committed to lowering its environmental impact by reducing the use of water and energy by 20% and the use of fuel by 25% by 2015.
In 2007, the company conserved nearly 5 billion liters of water across its global operations compared to 2006 through technological improvements in global manufacturing operations and resource conservation programs. Last year, PepsiCo took nearly 6 million kilograms of packaging per year out of its system globally and reduced greenhouse emissions by 18,000 metric tons annually by introducing a new 0.5-L bottle for Aquafina flavored waters.
PepsiCo is listed on the Dow Jones Sustainability North America Index and the Dow Jones Sustainability World Index.
Companies in this article