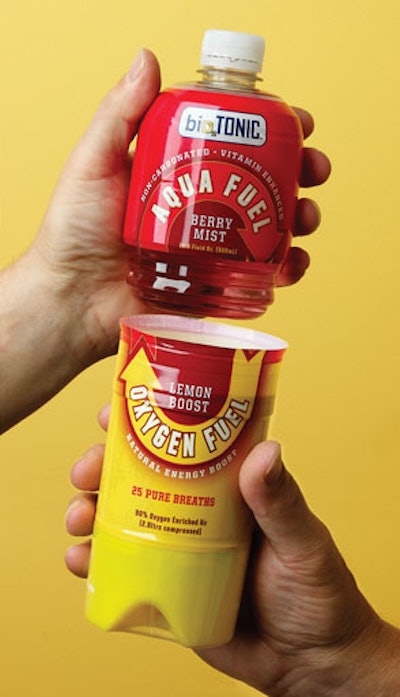 Marketed as an "energized hydration system," bio2TONIC joins Beverage Creations' Aqua Fuel vitamin-enhanced water with its Oxygen Fuel inhalable, 90% oxygen-enriched air (OEA) product in a portable, two-component package that can be disassembled for separate use or for recycling.
According to Beverage Creations president and CEO Bob Wieden, bio2TONIC's fortified water—in three fruit flavors—and its lemon-scented OEA are designed to work together to increase the body's performance and endurance. The direct inhalation of OEA is said to provide a number of health benefits, among them increased energy, brain activity, and metabolism; relief from stress, fatigue, and depression; and a strengthening of the immune system.
In designing the Oxygen Fuel aerosol container, Wieden told Packaging World it was essential that it be able to deliver the OEA directly into the nose. "If you do your medical research, breathing oxygen into your mouth is not the most efficient way to utilize oxygen," he says. "It does nothing in your lungs; it goes directly into your stomach. You need to get the oxygen in through your nose, and it has to go to your brain, down into your lungs, and out to your bloodstream."
Hence the 4.5-in.-high aerosol can uses a custom-designed cap molded with a nostril-shaped indentation and a pushbutton that activates delivery of the gas to the nose. The can and its cap are supplied by overseas manufacturers. The can holds 2.9 L of compressed air, which Wieden says equals roughly 25 2-sec breaths.
To impart an aroma to the oxygen, a lemon-scented plastic compound from RTP Co. (www.rtpcompany.com) was used to mold the cap. Beverage Creations plans to expand the number of scents it uses to create a mix of water/oxygen flavor combinations for different need states—for example, for a hangover cure, a solution to jet lag, etc.
Aqua Fuel is packaged in a squat, 16.9-oz clear PET bottle from Dahl Tech, Inc. (www.dahltechplastics.com). The bottle is attached at its base to the aerosol can (positioned upside down) by way of a rigid polypropylene coupling ring adhered to the base of the aerosol. The resulting container is then decorated by a single, full-body shrink-sleeve label from Smyth (www.smythco.com) for an uninterrupted, integrated appearance. Perforations at the midsection of the label allow consumers to cleanly access the coupling ring and pull the two containers apart.
Wieden says that consumer test results show that the product appeals to a wide audience—from children and adults engaged in sports and other activities where hydration and performance are desirable, to older adults concerned about the quality of the air they are breathing. bio2TONIC is expected to launch in October in specialty stores and at athletic and other events for a cost of $4.99 per bottle
Companies in this article