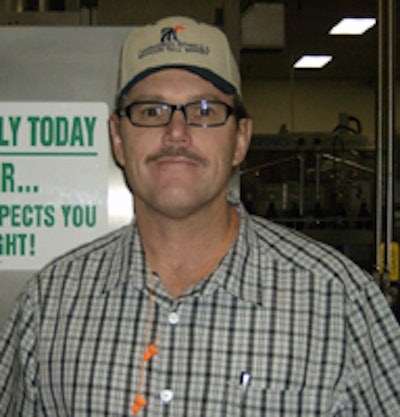 A metamorphosis in employee attitude is taking place at Mission Bell Winery, Madera, CA, led by the company's director of bottling, Dennis Hartman. Over the last several years, Hartman has begun implementation of a worker-training program designed to increase plant productivity and competitiveness by broadening the skills of the company's packaging line operators and maintenance personnel.
"When I got here six years ago, the climate essentially was that the operators pushed buttons, and anything that was required beyond that, we used maintenance personnel to support," he recalls. "To be competitive and to run with as few people as possible, we are trying to migrate into an environment where the employees who work on a machine within a zone on a packaging line have complete ownership of that machine."
For packaging line operators, the goal is to train them to become "operator/maintainers," equipped with the skills and confidence needed to resolve line interruptions, jams, etc. as they occur. As Hartman explains, in a pure operator environment, oftentimes maintenance personnel were relied upon to resolve even the most basic of machine failures.
"We'd have two people at the point of failure, and more often than not, it seemed as though the maintenance people weren't even using their tools," he relates. "So you'd lose time waiting for the maintenance guy, and then he really wouldn't even be employing his craft, which is to fix things that are incorrect, broken, or bent.
"So I realized that the only way for us to move into the 21st century was to create an environment where the operator became the first person to render that immediate action to solve those problems that make up the majority of the interruptions that occur on a production line."
For Mission Bell's maintenance personnel, the goal is to transition from two classes of employees—mechanics and electricians—to one class of multiskilled technicians. "So, as we are developing this new, hybrid operator/maintainer, we also need to have a hybrid maintenance worker who can not only deal with the mechanical aspects of packaging, but also handle the electrical aspects, as well," Hartman relates.
New line provides perfect opportunity
In October 2007, Mission Bell completed the installation of an entirely new packaging line, designed to fill 3-L bag-in-box wine containers (see the June issue of Packaging World for complete story). To prepare operator/maintainers to work on the new line, Hartman had them interact one-on-one with the machine vendors during installation and startup. "During this time, a lot of hands-on confidence-building was established," Hartman says.
In addition to working with technicians to learn how to set the machines' tolerances, the operator/maintainers also learned first-hand all the "secrets and nuances" of the equipment. The operator/maintainers also established a collection of business cards that they use when they encounter an equipment failure they cannot solve. "One of the first questions I ask the operators when they come to me with an equipment problem they can't fix is, 'Who have you called?'" says Hartman.
In specifying the new equipment for the line, Hartman notes that he was very conscious of selecting machines that required as few tools as possible for setup and changeover. While operator/maintainers are trained in the use of hand tools, they should be able to make adjustments without tools, as well as use the machines' touchscreens—not always a simple task given some employees' lack of experience with computers.
While gaining the practical knowledge of each machines' operation was essential for operators to move into maintainer roles, almost as important was giving them the confidence to proactively address machine issues Hartman notes. "Providing them with the ability to troubleshoot and the confidence to say, 'Well, here's the problem,' was just invaluable," he says. "Most of the time, an operator will know what the problem is, but they lack the confidence to believe that they know. Traditionally we have felt that the maintenance people are the only ones who know how to fix a machine problem. Trying to break that barrier down has been a significant undertaking."
Changing technology requires greater skills
As Hartman sees it, driving the need for this change in employee skill sets at Mission Bell has been the advancement of packaging technology. "As we leave manual processes behind and move forward with technology," he says, "the demands on the individual worker become greater. Their ability to think, learn, and reason are much more important now than with older technology."
In the past, he recalls, on-the-job, employee-to-employee training was standard. "All they had to worry about was the on/off switch and the reset button," he says. Today, that type of training is not sufficient to learn new technology; formal training programs are now being implemented at Mission Bell. In addition, the company has established a more selective hiring process to ensure that the right employees are chosen for the right positions.
The employee's desire to constantly improve is also essential in today's environment, Hartman adds. "Our work environment now is almost the classroom. People need to come prepared to learn everyday and to be better everyday," he says. "They have to have the attitude that although what they know today may be enough for today, it's not going to be enough for tomorrow."
In the area of maintenance personnel, changing technology, including the use of electronics, is driving the need for multiskilled technicians, rather than separate classes of electricians and mechanics. This is a bit easier than training an operator to acquire maintenance skills Hartman says: "Maintenance personnel have the aptitude, because the analytical and cognitive skills that one possesses to troubleshoot are the same mental skills that mechanical or electrical people will use,"
Success depends on employees
Thrown in with the understandable challenge of motivating a workforce to shed the status quo and take on greater responsibilities, Hartman has had the issues of a diverse employee base comprised of multiple generations with varying educational backgrounds, a union environment, and financial considerations to contend with. But, he says, he believes the new models of operator/maintainers and multiskilled technicians will pave the way for the future success of the company.
"Our future rests in our employees and their ability to take the opportunity that technology has afforded us, embrace it, and lead us to a profitable future by minimizing our manpower requirements and maximizing our productivity," he says. "It can't happen without them."
Hartman's program parallels the overall equipment effectiveness approach for employees proposed by OEE expert Paul Zepf of Zarpac. To read Zepf's steps to encourage employee accountability as it relates to improved OEE, see
Seven keys to establishing employee accountability
Companies in this article