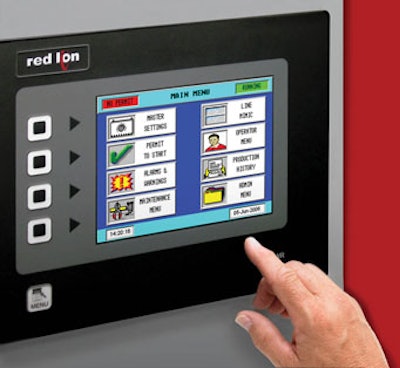 Printing and applying thermal-transfer or direct thermal labels in remote areas of the plant floor with no need for IT support or network installation is a key value proposition in the Model 410 Printer Applicator from systems integrator
SuperUser Solutions
(
www.su-solutions.com
).
Conventional print-and-apply labeling systems typically require that both a PC and a printer be placed on the plant floor, and programming the necessary information often involves expensive software. If operators need to send data to the PC from a remote location as opposed to entering the information on-location, they also need to establish a network connection with the PC—which involves further programming and maintenance.
The Model 410 LabelPack simplifies the process. It contains a PAX4 Print Engine from
Zebra Technologies
(
www.zebra.com
) that, when paired with the G3 HMI from
Red Lion Controls
(
www.redlion.net
), delivers a stand-alone print-and-apply solution with no PC or labeling software required. All label printing is placed in the hands of the operators on the plant floor, thus eliminating the time and cost of extraneous IT equipment and service.
Labels are generated by a custom code that a SuperUser solutions integrator writes into the G3 HMI, and all label data and formatting are stored on the HMI's Compact Flash Card. The HMI's intuitive menu-driven interface makes label printing a three-step process: customers simply select the label template, select the necessary data from stored data tables, and select the number of labels needed.
When new labels must be created, SuperUser Solutions can reprogram the label settings on the Compact Flash Card to update and add data to the HMI's recorded tables. With Red Lion's complementary Crimson software, programming is simple for users to perform as well. Its open system design allows customers to make the necessary data and template changes on-site or from a remote PC. All Crimson software updates are also free, making the LabelPack/G3 HMI solution cost efficient as well as easy to use.
According to Olindo Eger, principal systems engineer at SuperUser Solutions, the key to the LabelPack concept is the Compact Flash Card that fits into a port on the Red Lion G3 HMI. "This port becomes your interface with whatever systemwide network you need to connect with," says Eger. "The HMI has functionality on board that lets you copy onto the flash card data from whatever central source it's stored in and then download that information into the HMI, and, by extension, into the label printer. What it lets you avoid is having to run drops to every printer in your plant. I'm not aware of any other comparable device that can deliver this kind of functionality at this kind of price."
"Red Lion's HMI combines IT and control technology to help us deliver an all-in-one solution requiring no added equipment, and it can be installed and maintained by a single integrator," says Andy Messineo, integration director at SuperUser Solutions. "Customers have been requesting a product like this for quite some time, and we've seen a lot of excitement brewing about LabelPack since it made its debut at Pack Expo Las Vegas."
Companies in this article