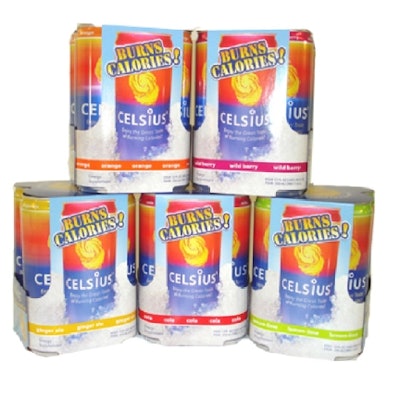 In June 2007, following an earlier successful launch of its innovative Celsius-brand calorie-burning, carbonated beverages in glass bottles, Celsius, Inc., Delray Beach, FL, introduced an additional packaging option for consumers-12-oz, tall, slender, aluminum cans supplied by
Rexam
(www. rexam.com).
The cans are multipacked in four-count, cut-out, four-color processed-printed, paperboard cartons supplied by
Zumbiel Packaging
(www.zumbiel.com).
Cans follow debut in glass
Celsius CEO Steve Haley says glass was chosen for the initial launch because this beverage marks the creation of what he calls the "calorie-burning" category. Had he launched the product in cans, he was afraid it would have been lost in a crowd of energy drinks that are also in cans. But once the launch was over, cans were a natural because they're accepted at so many more venues--gyms, beaches, and swimming pools, for example.
Haley cites studies showing that Celsius burns an average of more than 100 calories per single serving (12 oz) and raises body metabolism, boosting energy, without producing any negative changes in health markers. Flavors include cola, ginger ale, lemon-lime, orange, and wild berry. First introduced through Hannaford Supermarkets in New England, the cans in four-packs sell for $6.99 and are now rolling into wider national markets.
"Consumer reception has been great," says Haley. "And the large shelf-facings of the 4-packs really attract shopper attention. We also are considering adding 10- or 12-packs to the marketing mix. The packaging is helping to define and drive the brand."
Companies in this article