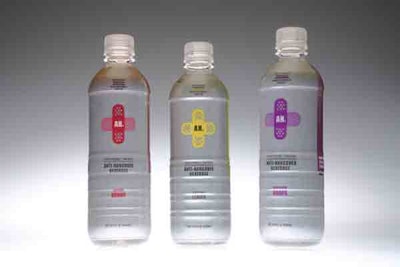 AH+ (After Hours+) is an appropriate name for a vitamin-fortified water designed to help relieve hangover symptoms associated with drinking too much alcohol. Introduced last July, the three 16.9-oz AH+ varieties are filled into 23-g injection stretch/blow-molded PET bottles provided by O. Berk (www.oberk.com).
AH+ (pronounced Ahh) is the brainchild of Tom Pemble, CEO of Peoria, IL-based DTK, LLC. Pemble developed the idea while in graduate school at Western Illinois University in Macomb, IL. "I had a professor who shared with me just what a body needed to prepare for—and recover from—a night on the town. Some friends and I found a company to mix the ingredients and this product was born. Then we named it, came up with the three flavors, got some investors, and began a whirlwind campaign to get it on the market."
Started less than a year ago, DTK is marketing single bottles for $1.69 - $1.79, and four-packs for $6. AH+ is sold in grocery and convenience stores, gas stations, and bars. Shelf life is one year for the product, which was test-marketed in Peoria, IL. "Currently, AH+ is available in Illinois, with Chicago our largest market," says Charlie Dimpfl, DTK's general manager. "We go as far north as North Dakota. It's sold in Pittsburgh, Pennsylvania, Kalamazoo, Michigan, and in Texas." Plans are to eventually sell AH+ nationwide.
"It has vitamins B12, B6, and B3, the main components you lose when you do drink," explains Dimpfl. AH+ contains a proprietary mixture of vitamins, electrolytes, minerals, and caffeine. "One bottle also gives you 100-percent of the daily allowance of Vitamin C, and it has zero calories, zero carbs, and zero sugar," adds Dimpfl. "It's a healthy alternative to flavored waters and sports drinks."
A press release issued by the company says AH+ "hydro-plenishes" the body, saying that "no other drink on the market matches the extensive scientific research done to help relieve a hangover."
"We have figured out that it is not just for hangovers," adds Pemble. "It can also help you after being jet-lagged, working out, or wherever else you feel you need to replenish your body."
Filling is done in Grand Rapids, MI, by private-label water bottler Northern Falls (www.northernfalls.com). No new packaging equipment was required for this job.
At this point, DTK has empty bottles sent to Seal-It (www.sealitinc.com) for application of a 2-mil PVC wraparound shrink label. Printed flexo in six colors, the windowed label allows the consumer to see the Bedtime Berry, Last Call Lemon, or Goodnight Grape flavors inside. A "band-aid" plus-sign-shaped graphic is printed on the label to imply that the drink is a "cure-all" for hangovers, or from jet lag. A 28-mm-wide, injection-molded polypropylene closure from Alcoa (www.alcoa.com) tops the bottle.
Dimpfl says the start-up firm is happy with the inroads AH+ has made in terms of its distribution. Pemble says the company is exploring ways to streamline its labeling and filling process and to expand distribution.
Companies in this article