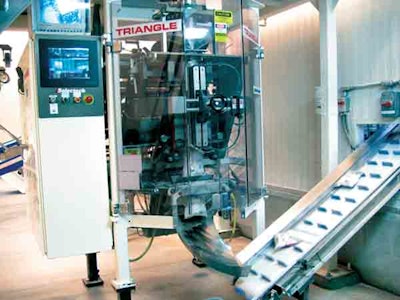 Marshmallow growth has mellowed over the past decades. In 1955, there were more than 30 manufacturers of the spongy confection in the United States, according to Foodtimeline.org.
Today there are three, according to Barry Blum, president of marshmallow maker Doumak, Elk Grove Village, IL, who says its market has remained reliably consistent. He uses those same words to describe two Advantage vertical form/fill/seal units from Triangle Package Machinery Co. (www.trianglepackage.com) at its operations in Bensenville, IL.
The new baggers were needed to increase output with fewer sealing problems than its other baggers, Blum says. The twin units face each other in a designated packaging room that also houses a row of four other older baggers from another maker.
The Triangle f/f/s units package a range of private label and in-house brands in bag sizes from 1 oz to 5 lb, totaling some 200 different items. Doumak packages own-brand marshmallows—both, Campfire brand and Rocky Mountain brand—though it packs other companies' brands most of the time.
Blum has felt good about the machinery decision from the time they pushed the on buttons. "We started them up and they ran," he says. And two years later they are still running steady and reliably at a rate of 40 bags/min each.
The main advantages Blum sees in the Triangles versus his older machines:
Servo-driven belts versus a seal bar;
Doumak's other baggers have a drive belt that is continuously in operation. By contrast, the Triangle machine's drive belt activates only each cycle. Blum feels that's a more efficient operation with less stress on the film and the drives.
Hot wire bag cutoff versus knife cut off.
Blum says that there is less sticking of product onto the hot wire versus the knife that's used on the other baggers. The wire can be wiped clean while the knife requires a complete cleaning,
Blum says.
Blum says the Triangle sealing jaw design is better than those on its other baggers, noting that they stay in alignment better. "The Triangles require less maintenance," he says in summary.
Marshmallows are transported from processing to the baggers via vibratory feeders leading to a Triangle Selectacom® 12-bucket netweigher atop each bagger. Blum says the automated netweight scales provide accuracy within 3 g.
The plant, which employs 90, was packaging 8-oz bags the day of our visit in March.
On the web unwind infeed side of one of the units, Doumak added a Markem (www.markem.com) Smart Date thermal-transfer coder in 2006 to replace a Markem model 9064 ink-jet coder. Blum has found that the starch powder that permeates the production operations affects the performance of the contact coders far less than it affects its ink-jet coders. The other Triangle bagger is expected to be upgraded to a new Markem this year. It prints the bag film with a one-line 9 months' product shelf life.
Less film, more savings
Another major plus that Blum expects with the Triangle baggers is that thinner gauge films can be run. Doumak currently runs 2-mil films, and Blum expects them to reduce that to 1.8-mil soon.
This continues film improvements the company has made as a result of what Blum calls "a lot of research" involving film barrier and sealability. As a result, Doumak made a change to how it sources films in mid-2005. Rather than receiving printed film, Doumak sources unprinted low-density polyethylene film through Flexall Packaging (630/668-6783) because it likes the company's quality control and the films' consistency. Doumak then arranges to have that film sent to printers of its choosing, either Robbie Mfg. (www.robbiemfg.com) or Garlock Printing and Converting (www.satinwrap.com). Blum feels this process gives the company better control and better results. The LDPE is flexo-printed up to as many as eight colors.
"That leads to less film use and cost savings," Blum says. "We've gotten a lot smarter about our films over the years."
Export markets are one of the fastest-growth areas for marshmallows, Blum says, especially in Europe where local brands use polypropylene packaging. The softer LDPE film that Doumak uses gives them a distinct differentiation over products that use polypropylene, a much more crinkly film, Blum says.
Whether used in recipes or around campfires stateside or abroad, Doumak has the machinery to provide bagged marshmallows to serve sweet teeth everywhere.

Companies in this article
Videos from Triangle Package Machinery Company