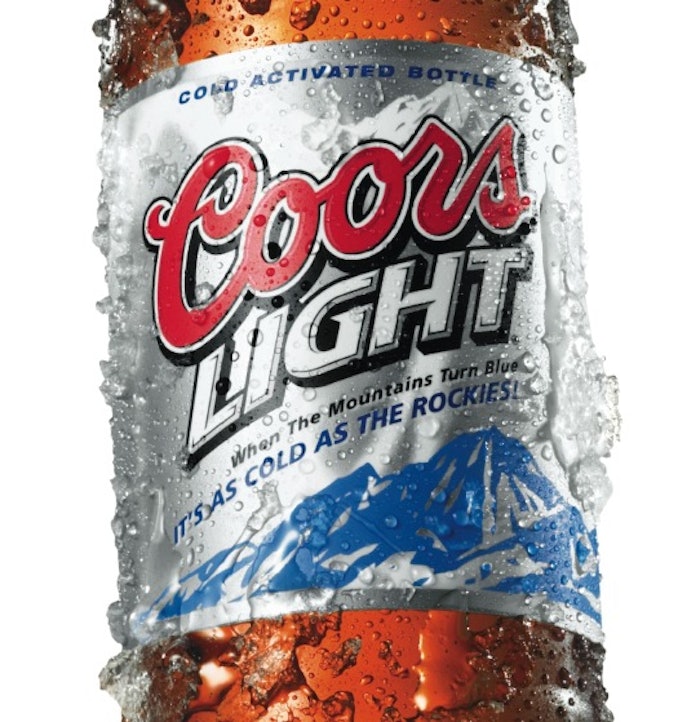 Coors Brewing Co. of Golden, CO is taking the guesswork out of wondering what temperature its beer is. The label on the company's Cold Activated Bottle for 12-oz glass bottles of Coors Light indicates when it's ready for drinking. Thermochromic inks used on the label's white lettering and Rocky Mountain icon turn blue once the beer reaches optimal drinking temperature.
The labels are printed by Inland Label & Marketing Services (www.inlandprinting.com) using Chromazone™ thermochromic ink from LCR/Hallcrest, LLC (www.hallcrest.com).

"Coors Light is the world's most refreshing beer and [this] addresses consumers' desire for the coldest, most refreshing beer," says Andy England, Coor's chief marketing officer. "Our latest innovations continue to raise the bar by delivering on our promise to provide the world's most refreshing beer no matter where our consumers decide to enjoy a cold Coors Light."
A first of its kind for Coors, the Cold Activated Bottle will be available on 12-oz Coors and Coors Light bottles. The bottles are currently being labeled, according to Coors spokesperson Jennifer Volanakis.

Consumers tend to keep their refrigerators set to between 40º and 45º F, so the label color starts to change around 48º F and is at full color between 40º and 44º F, indicating the beer has reached the perfect temperature, Volanakis explains.

"It is at this full color where we want consumers to experience Coors Light," says Volanakis, noting that the color change is reversible.

Cold Activated Bottles will be available nationwide through summer starting in May in participating bars, restaurants, grocery and liquor stores.




Companies in this article