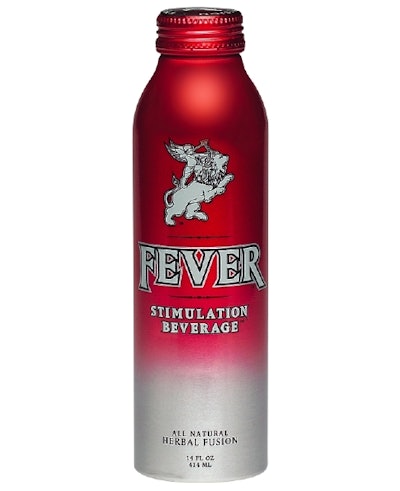 "We are the first and currently the only stimulation beverage in the market and we are pioneering the stimulation beverage category," says Barry Edelstein, president and chief operating officer for West Conshohocken, PA-based Fever Beverage USA. "We wanted a package that would also be unique, project a premium image for our alternative beverage, and help keep the beverage cold longer. The aluminum bottle really fit the bill because in has a brushed steel look with high-end graphics. We also like the feel of the heavier aluminum bottle."

The containers are supplied by distributor Zuckerman Honickman (www.zh-inc.com). CCL Container (www.cclind.com) manufactures the bottles and uses lithography as the decorating process. Silgan (www.silganclosures.com) makes the 38-mm metal screw cap that tops the bottle.
Edelstein says, "We chose a 14-ounce bottle so that it would be unique and stand out from other alternative beverage products. Furthermore, it offers consumers more product than similarly priced 8- and 12-ounces bottles or cans."
He prefers not to reveal who's filling Fever, but does say that contract packagers will be employed nationwide, and likely internationally, to do the job. No new packaging equipment was necessary, he says, for the original packer. The beverage is pasteurized, says Edelstein. Sales initially were in Las Vegas, Miami, Atlanta, Philadelphia, Atlantic City, New York City, and Los Angeles.

Made from premium herbs and natural sweeteners designed to increase libido and virility, improve well-being, and fight fatigue, Edelstein says the beverage is noncarbonated and is not an energy drink. Fever sells for $2.89 at a variety of retail establishments and has a one-year shelf life. Edelstein says a 12-pack sells for $35 at the company's www.feverusa.com Web site.
Fever Beverage USA also plans to launch a four-pack later this year that Edelstein says will retail at convenience and grocery stores and gas stations for about $9.99.



Companies in this article