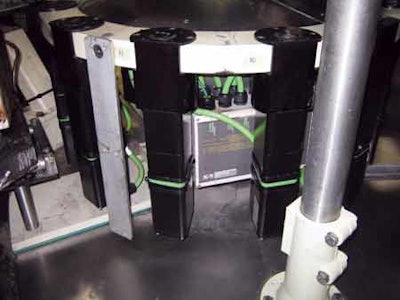 A recently built cold-glue labeler from K2 Engineering (www.k2egroup.com) whose individual bottle plates are servo driven is capable of an infinite range of electronic cam profiles. This allows the end user to run just about whatever bottle size or shape it chooses. Since Yakima Juice, the end user in this case, is a contract packager doing up to three size changes daily on this particular line, the flexibility is especially welcome.
"Conventional mechanical camming is just not flexible enough for this kind of application," says Ed Stefaniak, manager director at K2. "It's designed for one container. If you want to introduce another shape or size, you need a different mechanical cam track profile, which can take 6-10 weeks for delivery and maybe a couple of days of installation and commissioning. With servo-based technology, on the other hand, you don't have to do that. You select a new cam profile at the touch screen and you're up and running. All the data for the new cam comes from the controller."
The labeler K2 supplied to Yakima Juice is actually a rebuilt Krones machine. (Rebuilding and re-engineering packaging machinery is what K2 does.) As with all full-wraparound labelers, bottles are fed onto individual bottle plates through a feed screw/starwheel combo. Adhesive is applied to the bottle. The bottle contacts the label, picks up the leading edge of the label, removes the label from the magazine, and enters the brushing station, where the label is pressed down around the container.

Capable of 200 bottles/min, the Yakima Juice labeler has 12 bottle plates, each driven by a PacDrive SCL integral servo motor/drive from Elau (www.elau.com). Both the servo motor and the drive electronics are in the same enclosure, a unique cartridge developed by K2. It's a quick-change modular design that includes the PacDrive SCL motor/drive, a planetary gear box, and a compression fitting that mounts onto the rotating bottle table. Specially designed for use on the rotating carousels typically found on fillers, cappers, and labelers, the unique motor/drive combination eliminates electronic towers rotating above the machine.
"Not needing all the drives to spin on the carousel is huge in terms of machine controls, sanitation, and serviceability," says Dan Feest, project director for high-speed rotary labeling equipment at K2. "Also, the trapezoidal shape of Elau's motor/drive lends itself perfectly to a rotary machine, which allows us to run a tight pitch. It is the most compact servo design we've seen by far integrated into a bottle table."
Out in Yakima, WA, plant manager Jack West appreciates the labeler's flexibility even more than its small footprint. That's because Yakima Juice needs the labeler to perform two or three changeovers daily, running 16-, 32-, and 1-gal bottles that are round as well as 1-qt bottles that are rectangular. Both glass and PET bottles use full-wrap, hot-melt glue-applied paper labels.
Companies in this article