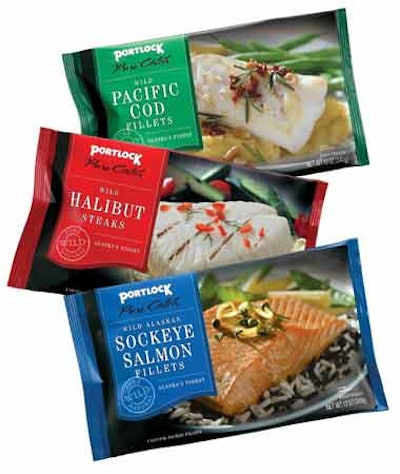 x"We wanted to create a synergy between Safeway's marketing goals and Portlock's positioning as a premium brand," says Ken Ng, executive vice president at NorQuest. This is the Portlock brand's first foray into the retail market. NorQuest is a subsidiary of Seattle-based Trident Seafood.
To create the specialty packaging, NorQuest employed Kendall Ross (www.kendallross.com), a brand development and design firm. "People today are looking for food that's health-conscious and easy to prepare," says Tim Ross, principal, Kendall Ross. "When we designed the package, we thought about shoppers that are looking for something a little better than a typical frozen meal or processed fish."
Kendall Ross chose the name PureCatch to reflect the freshness of the product and created a window in the back of the package so customers can see what they are buying. The company also chose warm colors and photographed the fish cooked instead of raw to create an inviting package that departed from the cold, sterile packaging often associated with frozen fish products. Romance copy touting the benefits of fish as well as easy-to-prepare recipes on the back of the package add to the product's appeal.
The bag also sports a matte finish: "Since this is a premium product, we wanted to convey a premium look for the package," says Ng. "The matte finish conveys that sense to the consumer." Ng is pleased with the end product and says that it's doing well on the market.
—Kassandra Kania
Companies in this article