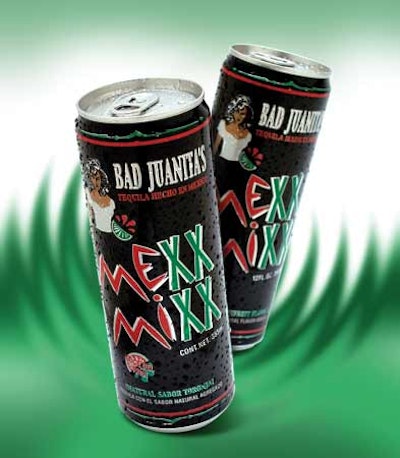 The distilled product (rather than malt-based) is called Bad Juanita's Mexx Mixx, a ready-to-drink tequila beverage that combines tequila with sweetened, carbonated grapefruit and lime flavors.

It is "the only packaged mix drink beverage of its kind in the United States," according to Springboro, OH-based Heartland. Rexam (www.rexam.com), supplies its SLEEK™ 12-oz can. A liner inside the can helps provide a 19-month shelf life and strengthens the can. Rexam also provides the 202-sized pull-tab ends.
"We're the first to use real distilled tequila combined with grapefruit flavoring in a prepackaged Rexam SLEEK can," says John Kanetzke, Heartland's director of marketing and sales. "The portability and uniqueness of the can will really help our beverage stand out on retail shelves." Mexx Mixx sells throughout the U.S. in single cans for $1.99; $6.99 for a four-pack. Kanetzke says 12- and 24-count cases are also available. Mexx Mixx is also being sold in Mexico.
Heartland worked with Rexam's Graphic Art and Printing Plate operation to establish color and graphic tolerances for its graphics on the cans. Cans are produced and decorated at Rexam's Winston-Salem, NC, facility, then filled by Carolina Beer and Beverage Co. LLC (www.carolinablonde.com).
Kanetzke believes mixed drinks in aluminum cans hold considerable promise in the future, indicating that a tequila/strawberry-kiwi and a tequila/mango offering are likely. Heartland is also considering vodka and lemonade and gin and tonic in the cans. —Jim Butschli
Companies in this article