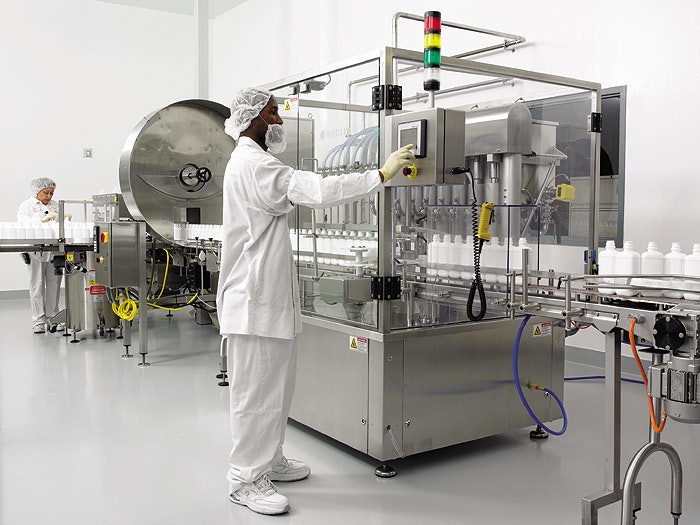 Packager: PharmaFab is a Grand Prairie, TX-based contract manufacturer. The CM manufactures prescription and over-the-counter product, filling capsules and tablets on three packaging lines, liquid pharmaceuticals on two other lines. PharmaFab produces product for pharmaceutical companies, private-label firms, and distributors.
Darlene Ryan, president and chief executive officer, says sales have grown from $36ꯠ in the company's first year (1996) to about $30 million in fiscal 2004. Its plant has more than doubled in size, to 100ꯠ sq'. With newly leased space, the company will soon have more than 200ꯠ sq' for its operations.
Challenges: 1. Increasing customer demands and meeting regulations from the Food and Drug Administration make packaging flexibility a priority at PharmaFab, which operates by current Good Manufacturing Practices (cGMP).
2. Need to improve line speed, reduce changeover time, and lessen product giveaway by replacing an older liquid filling line. The new line had to be operational in three months after equipment was ordered so that it could produce cough and cold remedies for the fall and winter season when the product is most in demand.
3. Suppliers needed to meet PharmaFab's guiding principles for forming a business partnership. The principles are: tell the truth, be fair, care about people, help the customer succeed, and increase the company's value, but never at the expense of these principles.
Changes: PharmaFab employs Modular Packaging Systems as an engineering integrator for the line, a company it had worked with in the past. From beginning to end, the new line includes:
• A Kaps-All AU-3 unscrambler that places high-density polyethylene bottles onto a conveyor. Glass bottles are loaded on a feed table that are fed into a McBrady Model #200 Orbit bottle cleaner. The bottles are rinsed with air while inverted, then reverted back to the conveyor.
• Bottles then are conveyed through an eight-head, inline piston filler from Kugler that fills bottles with 1¼2 oz to 16 oz of liquid. "We purchased it after we initially saw it at the Interphex show last year," reports Loyd Bowman, PharmaFab's director of facilities and equipment.
• A six-head Kaps-All A6 spindle capper applies a screw cap, some of which are child-resistant.
• Plastic bottles are conveyed through an AutoMate AM-250 "Smart Seal" induction sealer that Bowman says is equipped with a controller so that it can check for things such as missing foil, a raised cap, or a stalled bottle, and determine if heating temperatures are accurate.
• Next, bottles proceed to a "surge" table that allows for accumulation so that the induction-sealed bottles are cooled before a Kaps-All FA6 retorquer tightens the caps to the bottles.
• A Quadrel Versaline labeling system applies a wraparound pressure-sensitive label to the bottle. Labels are coded on the web with a lot number and expiration date via a Videojet thermal-transfer coder.
• In some applications, a Creative Automation machine is employed to apply a drop of hot melt glue on top of the bottle cap. An operator then places a prefolded instructional insert onto the glue to hold it in place.
• Bottles are manually loaded into a carton or case from a custom-built conveyor system from Modular Packaging. The system incorporates four workstations to accommodate packers. Following case packing, palletizing, and stretch wrapping, pallets are stored in a controlled warehouse prior to shipment.
Results: "We needed to increase production of prescription cough syrup, a tricky manufacturing task because of the need to achieve a specific viscosity—as thick as honey—with a particle-based suspension," recalls Bowman. Liquids are filled at ambient temperatures.
• The installation was completed in time to allow production start-up by mid-October, 2004.
• The new line fills 15-mL bottles at 110/min, and 475-mL bottles at 60/min, compared with the previous line that filled those same bottle sizes at 50 and 30/min, respectively.
• "The new line is also more user friendly and has decreased downtime from changeovers by at least 50 percent, and changeovers can occur as often as three times a day on the line," he says.
• Bowman says that due to both faster start-up times, and more accurate fills, the new machine has reduced product loss from 3% to 4% of a batch down to 1%. "It's a lot of money because batches can vary in cost to more than $55ꯠ a batch."
He explains that these benefits help justify the investment in the new line. "This was an expensive line for a company our size to add. We had to look at the big picture to determine our economic justification. We can make one adjustment now to get correct fill volume on all the fill heads instead of adjusting each one individually as we did before.
"Modular Packaging helped us through a complicated project by getting us the right equipment and helping us set up an integrated line in record time," Bowman adds. "Modular offered us a turnkey project and it follows up whenever we need it. The company wants us to be successful, because it knows that in another year or two, when another capital project comes up, that it'll be at the top of the list."
Companies in this article