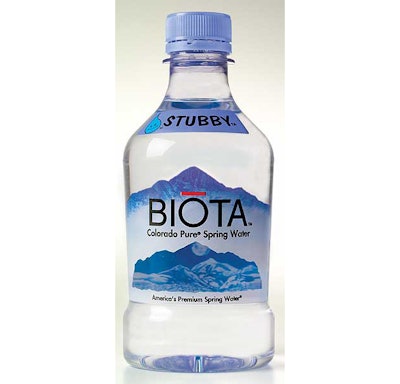 Derived from corn, the bottles are the first in the world to be commercially compostable wherein they will disintegrate in 80 days, claims BIOTA.
"BIOTA water is the perfect combination of Colorado premium spring water and environmental respect," says David Zutler, BIOTA's founder and chief executive officer. "Our 'PLAnet-Friendly' packaging clearly positions BIOTA to stand out as the best choice among bottled waters worldwide."
The water was launched in two custom designs, a ½-L and 12-oz Stubby (shown). A 1-L size should be available by year's end, Zutler says. The product debuted at Boulder, CO-based Wild Oats Natural Marketplace stores throughout Colorado and in southern California, with further rollout ongoing. Wild Oats sells salads in containers with lids, both made of PLA (see packworld.com/go/c119).
The water is sourced locally high in the mountains and is piped to and bottled at BIOTA's new plant in Ouray, CO (see www.packworld.com/go/w135). BIOTA receives PLA preforms injection-molded by its sister company, Planet Friendly Products in Salt Lake City, through a joint-venture agreement, then stretch-blow molds its own bottles. The bottles' pressure-sensitive front, back, and neck labels not only offer an attractive no-label look, they are compostable. The front and back body labels are made of 1.6-mil biaxially oriented PLA that is flexo-printed in at least eight colors. The neck label is made of paper. Zutler handled the package design himself.
Zutler sees BIOTA as "trend setting" rather than as a niche product. "BIOTA is for active people and general consumers who want a quality spring water," he says. Molded with thicker-than-usual walls, the bottles weigh approximately 25% more than PET bottles. That's done because Zutler wanted "substantial" bottles to underscore the product's premium quality. "Our bottles don't 'crinkle' like PET bottles can," he points out.
The water vapor transmission rate in BIOTA bottles are higher than for PET, but that relates to evaporation under extremely hot conditions rather than to bottled water quality, Zutler says. During filling, a laser-etched date code is applied. He does say that the molding processes are not as energy-intensive as for PET since lower temperatures are used. The environmentally conscious Zutler hopes to sell PLA preforms and molding technology to other bottle manufacturers through Planet Friendly Products.
Companies in this article