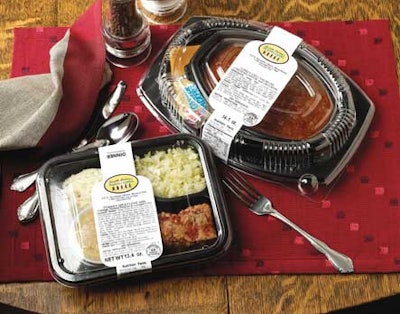 For years, Seattle Sutton's Healthy Eating (SSHE), makers and distributors of fresh, refrigerated meals, purchased preprinted labels to wrap around its two-piece, microwavable plastic containers. SSHE used printers only to mark a use-by date or distributed-on date on the label.
That began to change in 2002 when the Ottawa, IL-based firm purchased Avery Dennison Model 6406 thermal-transfer printers. Late last year, SSHE added three more units used at Ottawa and franchises in Minnesota and Georgia that prepare and hand-pack meals. Why the change?
"We're now printing labels with an ingredients statement; heating instructions; a USDA 'legend'; our company name, phone number, and address; and a distributed-on date," explains Kathy Tuntland, co-owner of SSHE, which was founded in 1985 by Seattle Sutton, who is a registered nurse, and her physician husband.
Economics also played a role in the decision to print in-house. "Printing our own labels cut our costs because we can implement a change in meal items when we want," Tuntland says. "With preprinted labels, if there was any inaccurate information, we couldn't use those labels, so we would have to throw them away and order new ones. That absolutely cost us more money, though I don't have specific figures. And it could take up to a month to have new labels printed, depending on the supplier's schedule."
Asked to provide an example of such an inaccuracy, Tuntland says, "We would get preprinted labels in quantities of tens of thousands for one of the 100-plus different kinds of meals we make. If the ingredients in the meal are printed in the wrong order of predominance, the label is incorrect. Then we might be stuck with thousands of labels that we need to discard. Plus we then have to order labels with ingredients printed in the correct order." Ingredient statement changes would be required any time an ingredient changed in one of the meals.
Saving ribbon use
The 14"-L x 11?2"-W pressure-sensitive labels are supplied by cobaltBlue and Biggins. Labels are mounted on a spindle in the printer. A software package instructs the printer which information to print. Three stepper motors in the machine drive the printing process. One motor drives the label material under the print head in the printer. A second motor pulls the ribbon, while a third controls the motion of the print head.
The process uses a ribbon-saving feature that was instrumental in SSHE's selection of the 64-Series 6406 printers. Unlike some thermal-transfer printers where the ribbon moves with the label, in this machine when the software in the printer "senses" when it can save ribbon, the print head lifts up the ribbon while the material continues to advance. So instead of 14" of ribbon being used with each 14" label, only part of the ribbon might be used, depending on what needs to be printed onto that label.
Like filling product into the trays and snapping on the closure, SSHE manually applies a printed label around each meal-filled tray, which seals the tray and lid.
All together, SSHE now employs six of the printers, four at Ottawa where Tuntland says, "we produce about 130ꯠ meals a week. We run the machine about eight hours every Monday and Wednesday. We use black ink on labels for meals that fit into a 1겨-calorie plan, red ink for meals for 2ꯠ calories per day," she says.
The previous thermal-transfer printer used at Ottawa was slow and subject to breakdowns. "We would often have to repair the old printer in the middle of a label run," recalls Chris Johnson, head of the label printing department. "There were occasions when the delivery trucks were nearly late leaving because of label printing problems.
"Printing the labels in-house [became] an option because of the 6406's excellent print quality," he adds. The combination of label and ribbon savings helps SSHE gain a quick return on investment for the equipment. What is the ROI?
"It's hard to determine material savings," says Tuntland. "We don't have a dollar amount calculated, but the major benefit is that we no longer have to throw away labels. We still order large label quantities, but they're unprinted. They don't need to be sorted, organized, and stored on our shelves. Plus we can implement changes immediately. So, yes, the machinery cost money, but we're saving in other ways, and we're able to more quickly satisfy customers. I think we've recouped our investment."
Meals are shipped from SSHE's franchises by refrigerated trucks to a network of distributors. Distributors place weekly orders made by consumers in their geographic area. Consumers pick up nine meals on Mondays, 12 on Thursdays. SSHE customers can pick up their 21 weekly meals at the distributor's location, or have them delivered directly to their home or office.
"We have 120 distributors that order for us," says Seattle Sutton. "These are fresh foods with a three- or four-day shelf life. They're high-nutrition, low-calorie meals for people who want to eat healthy, not just for people concerned with weight loss. We started in 1985 with a $1ꯠ investment, and last year our sales reached $19 million. We're always trying to improve on our packaging [methods], and it's been quite a challenge." A challenge that's now being met at less cost, thanks to the new printing equipment.
Companies in this article