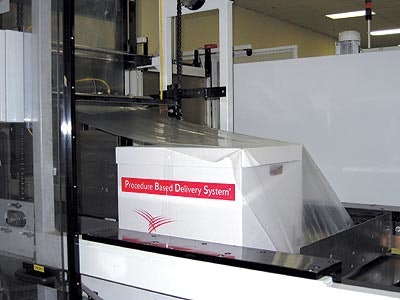 For years, workers at Cardinal Health's manufacturing facility in Waukegan, IL, loaded sealed boxes of packaged surgical procedure kits into 3-mil low- or linear-low-density polyethylene bags, then taped the bags shut. Because the bags would snag up or tear on the existing conveyor system, they were palletized and taken manually to the company's stretch wrapping, storage, and shipping functions. Labor costs were considered unsatisfactory. The company also believed the bagged, labeled boxes were unattractive for its hospital customers, who had to identify the kits and store them in central supply areas.
"These kits are used in the operating room," explains Jeff Cavil, senior principal engineer at the McGaw Park facility. "We can't have a dirty box that's gone through the shipping environment going into the operating room. So that's the purpose of having an outer film wrap, which is removed by hospital staff, in receiving, before they send it to a central supply area, which is usually in a clean room at a hospital."
To treat its packaging ailments, Cardinal Health early last year "implanted" a system from EDL Packaging Engineers. Cardinal Health and EDL created the system so that it would integrate into the company's conveyor and manufacturing system.
The key to the system is EDL's Double Wrapper that wraps each box twice with 1.5-mil low-density polyethylene film, once end forward and a second time side forward. The double wrapping results in two layers of film at the corners and beneath the box. "These are the typical wear points on the box where there's often incidental contact," says Cavil.
After the second wrap, boxes are conveyed through a heat tunnel that shrinks the film tightly onto the corrugated.
The film-overwrapped boxes of kits, each of which is known as a Procedure-Based Delivery System (PBDS), are now conveyed downstream without incident. The clear film also makes the pack more attractive to hospitals. Film is removed by a hospital staffer before the clean, white-lined boxes are delivered to the Operating Room, where the components are separated.
The EDL equipment was added in early 2003 not only at Waukegan, but also at Cardinal's facilities in California and New York. Each facility ships kits to hospitals and freestanding surgery centers within its geographic market.
Cavil explains that each PBDS includes products required for a specific surgery, such as a hip or knee replacement, cesarean section, or heart-bypass operation (though the last would require two boxes).
"The same surgical procedure may require custom items for different surgeons or different hospitals," adds Catherine Heft, project engineer. During a recent Packaging World visit to the Waukegan site, Cavil and Heft explained that a kit may contain anywhere from 15 to 150 items. A kit's total weight can range from 5 to 65 lb. Kits can include IV bottles, anesthesia subassemblies, surgical drapes and gowns, sutures, needles, pumps, mop heads, even personal goods such as shampoo and deodorant. Cardinal Health makes many of these products; others come from dozens of other leading manufacturers. Some products come prepackaged, some sterilized prior to their repacking by Cardinal Health.
Meeting the challenges
"The change from putting boxes in a plastic bag to using automated shrink wrapping was driven by a combination of cost savings, better packaging appearance, and customer convenience," Cavil says.
Although Cardinal opted for automation, it was with an important caveat: "Our job is to build surgical kits, not wrap boxes," he says. "One of the requirements we had was that running the machine could not take more than 25 percent of an operator's time, including roll changes. So we wanted a machine that could work independently."
The operators are not dedicated to the machine. Their primary tasks are to handle packaging materials and product used to make the kits.
Cavil says Cardinal Health "realized early on that we needed a customized piece of equipment to handle the different box sizes and meet our floor space requirements. It had to be an intermittent-motion machine because we run random sizes, not batches. We didn't want to be concerned with machine changeovers."
To meet its multiple objectives, the company "screened a lot of vendors," Cavil says. "We found EDL to have the most current technology to do this. A factory acceptance test with our boxes was conducted at their facility before we accepted the machine." Afterward, Cardinal Health purchased three machines, one for each of its plants. One of them was exhibited at Pack Expo in Chicago in November '02. All three units were installed within two months after the show.
Perusing the process
At Waukegan, Cardinal Health runs the machine to produce double-wrapped boxes at speeds of about 10/min. Kits are packed into kraft-faced corrugated boxes or into corrugated boxes with a white outer liner. Kraft-faced boxes are used for "custom products," defined by Cardinal Health as general supplies, such as admission kits, that are not related to a surgical procedure. These boxes do not require shrink wrapping. The clay-coated white boxes, Cavil says, provide a cleaner, more appealing look. Because they go to the O.R., these cases do require shrink wrapping.
Cardinal Health uses a computer to print pressure-sensitive case labels that contain the PBDS type, part number, customer, description of contents, and any other key details. Workers apply the label to each case.
Both the kraft and clay-coated white boxes are conveyed at random along a main roller conveyor to the EDL equipment. A color-sensitive photoeye reads the reflectance of the end-leading box. If it's a kraft box, it is conveyed directly to downstream palletizing.
A pop-up roller device temporarily stops a white box before it's released onto a conveyor that feeds the EDL machine. The system permits accumulation of four or five cases just upstream of the double wrapper.
A pneumatically activated set of clamps centers the incoming box on the conveyor that carries the box to the first station. A flight bar pushes the box into a 24"-wide curtain of film. Both wrapping stations on the EDL equipment include two webs of film, one positioned above the box, the other below, where it's driven upward through a small gap in the conveyor. The films are heat sealed to form a film curtain.
The box moves forward so that the film covers its top, bottom, leading, and trailing ends. A heated sealing anvil from beneath the box ascends while the flight bar descends. They come together to create a heat seal on the trailing edge of the film and the leading edge of the film for the next surgical kit case. A hot knife in the sealing device cuts between the seal areas to separate the wrapped box from the film curtain.
A flight bar pushes the tightly overwrapped box out of the first wrapping station. The box is conveyed a few feet to a stop against a perpendicular conveyor that leads into the second wrapping station. The right-angle conveyor positions the box so that its wider side dimension leads into the second sealing station.
Before this seal, the EDL machine uses guides and pneumatic devices to fold the first layer of film around the eight box corners, pushing the film down from the top four corners and pushing the film up from the bottom four corners.
The second sealing process is similar to the first, except that instead of using a flighted system, this process uses a pneumatic pusher-type device. The box enters the 38"-wide film curtain and is overwrapped. After it is discharged from this station, it again comes to a stop on a perpendicular conveyor so that it is conveyed end-long into the heat tunnel.
Cardinal Health closely monitors film sealing and shrink tunnel temperatures so they stay within tolerances necessary for the equipment, which is validated. Ambient air is blown onto the box just after it exits the heat tunnel to allow it to be handled if necessary, though boxes are discharged back onto the main roller conveyor. Boxes are conveyed to a large merge area, then diverted to the appropriate spur for manual palletizing and stretch wrapping. Typically, a hospital load is mixed, with some PBDS kits, some kraft general supply boxes, and some with bottled water and other supply items.
Counting benefits
Cardinal Health has been pleased with the equipment, forecasting a quick payback on the investment. Labor savings provide much of that payback, but there are other key benefits as well. "We no longer need a three-mil bag," says Cavil. "Instead, we have two wraps of 1.5-mil film. Because the film width is just wider than the case dimension we're wrapping, we don't have nearly as much film waste as we did with the former bag. Yet, we still have three-mil thickness in the critical corner areas of the box." He also points out that "we can buy rolls of film cheaper than we can buy bags."
The EDL equipment also provides important space savings at the Cardinal Health plants. "It operates in a U-shaped work cell," notes Heft. "With many shrink-wrapper and tunnel systems, we'd probably be looking at a 20- to 30-foot-long line," Cavil adds. "This brings in a box, wraps it in one direction, turns the box, then wraps it in another direction, so the machine's footprint fits better into our work areas." Better yet, he says, "we can guarantee that the box arrives at our customer's location without holes or tears." That's precisely the kind of remedy Cardinal Health sought.
Companies in this article