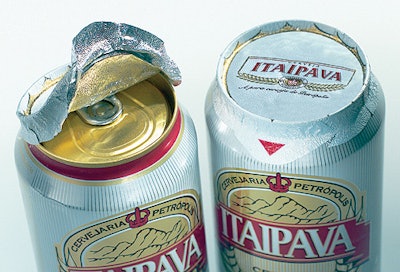 The Taxomatic is a "labeler" in the sense that it operates a lot like a cold-glue rotary labeler. It's called "Taxomatic" because it's a modified version of a machine Krones builds for application of government-required tax strips to bottles of spirits.
Cans enter the 18-station rotary system through a feedscrew. A label pallet picks up food-contact-approved adhesive from a glue roll and then picks a foil "label" from a magazine. The foil is transferred to a gripper device that puts the foil on the can lid. In a second carousel, the foil is gently pressed around the top of the can.
Supplied by Hueck Folien, represented in the United States by Hueck Foils, the 13-micron foil labels are printed flexo in four or five colors. At Petropolis, the labels are applied at 500/min to 350-mL aluminum cans. The cans are then shrink bundled in either 12- or 24-count bundles.
In use now since October, the foil overwraps are not cheap. Petropolis's Douglas Cervejacrystal says the foil adds about U.S.$2.33 to the cost of a 12-pack. The brewery is obviously willing to think that Brazilian beer drinkers will pay the upcharge in return for knowing that the can surface they drink from is unsoiled.
Companies in this article