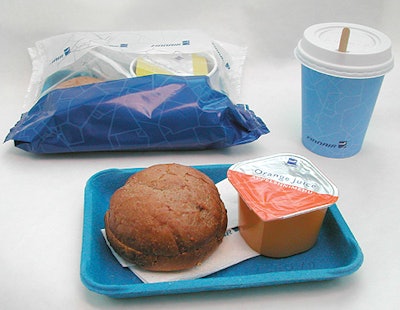 While financially strapped U.S. airlines may be abandoning inflight foodservice, one European airline, Finnair, is demonstrating how to take costs out of serving food and beverages to passengers, via recycling of the resulting waste.
Finnair Catering, an independent company of Finnair Corp., has long been interested in environmental management. The company, says Kristiina Asplund, manager of quality and environment, is believed to be the first airline catering company to receive ISO 14001 environmental certification two years ago. Late last year, Finnair Catering, headquartered near Helsinki's aiport at Vantaa, partnered with Huhtamaki Packaging in a pilot program to recycle inflight foodservice packaging.
Finnair has been active in collection and recycling of inflight packaging for some time. But the conversion to the use of molded pulp food trays from Huhtamaki has added greater potential to the program. Previously, the airline used plastic reusable trays on some flights and no trays on others.
"As a part of environmental management system, we have separated the waste for many years, with the assistance of Finnair cabin crews," Asplund says. "The collection of the molded pulp trays was one more step in the process to improve our environmental performance. With the help of Huhtamaki, the recycling of pulp trays was initiated sooner than planned."
Because of European Community regulations, recycling of inflight materials is far more common in Europe than in the United States. In no small part, that's because there is greater collection and separation of the packaging, leading to the creation of a material flow that can supply recycling operations.
Linking existing systems
In the case of the pulp trays, the innovation is in linking systems that were already in place, says Karri Koskela, group environmental manager for Huhtamaki. "Our idea is not to create competing recycling systems, nor to start doing any individual truck loading, because that would destroy the economics of recycling. So, instead, we benefit from the communal and municipal collection systems already in place."
Another partner in the process is Corenso United, a company that operates a recycling system designed for liquid paper packaging like aseptic brick-style packaging. Corenso is a joint venture between papermakers Stora Enso and UPM-Kymmene.
As Koskela describes it, the Corenso mill in Varkaus was developed to separate the three materials from liquid paper packaging: aluminum foil and paper is recycled, while the polyethylene is separated and used to feed a gasification plant that provides heat to the facility.
"One of the primary reasons for this process is that the fiber used in both foodservice board and brick-style containers is one of the best quality fibers in the world," Koskela points out. "So its quality and value is quite high. In fact, part of the material flow for this plant comes from liquid container waste from Germany. The value of the recycled fiber allows the process to accommodate the transportation costs."
For Huhtamaki, the recycled paper from Corenso, usually used to make fiber cores, helps close the production loop. "This quite nicely closes the environmental loop, because Huhtamaki buys paperboard from Stora Enso," Koskela notes with pride.
What happens at Helsinki
The key to this process is specifying the right materials for use on board Finnair aircraft, and the ability to recover them for recycling. Few changes in inflight materials have been made except for the molded pulp tray, says Asplund. In the case of the trays, they are collected in the food trolleys aboard the airplanes, she says.
"Later, when the trolleys go to our Finnair Catering unit, the trays are separated while the reusable materials and the trolleys are diverted for washing," says Asplund, who is also a Doctor of Veterinary Medicine. Other waste trolleys on the aircraft are used to collect glass, metal, plastic, and food waste.
Asplund points out that some glass is refillable so it has to be separated from the glass to be recycled. Most inflight plastic containers, when they can be separated from other waste, are collected and later granulated near the airport and used as a fuel for incineration plants.
"For the onboard plastics waste, we use a system that isn't strictly a recycling system," Koskela points. "Because we burn the ground plastic, we call it 'thermal recycling.'" It's much the same process as used by the Varkaus mill with the polyethylene that's removed from the liquid container packaging.
"With any kind of recycling system, it's important to use all of the recycling or recovery options," Koskela says. "By using the waste plastics to generate thermal energy, at least we're not creating more waste. So the burning of plastics is not always a bad thing. Incineration is not always a popular option even in Europe, but it's the best option for this waste."
Training is important
As Asplund explains, the complete recycling program has been in development since 1998. "As a smaller company, many of these procedures are quite easy for us. We have only two catering units for the Helsinki airport," she points out.
All 1꺜 crew members of Finnair have been trained in the separation and collection process, and this continues on at least an annual basis. "In addition, we continue to keep the crew informed about environmental matters, our goals and targets and, of course, our achievements," Asplund says. "As well, each crew has one member appointed as a part-time supervisor for environmental matters."
The airline communicates regularly with its passengers about sorting waste for recycling, primarily using inflight magazines and the airline's communications department.
"Of course, the success of our recycling program is dependent on our customers' efforts, not only those of the airline flight crews," Asplund points out. "The passengers have been extremely supportive. But it will take some time for them to change old habits, such as tucking used plastic wrappers inside paper cups."
What about fees?
Neither Koskela nor Asplund wanted to directly address the specific economics of packaging or recycling fees. "In Finland, we have recycling fees that are established in a way similar to the DSD system in Germany," says Koskela.
"However, in Finland our fees are more sensibly planned and implemented. That's because our recycling infrastructure has been created together with industry and to meet quotas. But our systems are 'lean and mean' and that results in significantly lower levels of recycling costs." Depending on the material, he estimates costs in Finland are as little as 10% of those charged in Germany.
In addition, Koskela notes that landfilling fees are reduced for companies like Finnair Catering that source-separate materials. "This encourages packaging users like Finnair to do more sorting, even of those materials that it can't recycle. The possibility of changing from a mixed waste stream into sorted waste is one of the key drivers for Finnair. It creates a positive economical effect, in addition to the environmental image," Koskela adds.
Overall, Asplund says, "our target is to recycle 40 percent of all [onboard] waste by the end of the year. The interest on the part of passengers has been rapidly increasing."
Nearly all Finnair on-board waste is taken to its main catering unit, most of it already source separated. "We have created an infrastructure where it can be separated even further and moved to the appropriate waste collection stations or even to some factories," Asplund explains.
"One of the drivers for us on this project is to show that, instead of creating a lot of restrictive legislation with fancy terms like 'producer responsibility,' we can do practical projects without government pressure," Koskela says. "Legislators are now starting to listen to us, telling us 'that's a sensible thing to do.'"
Companies in this article