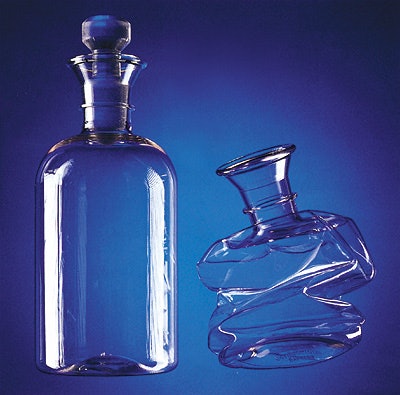 This laboratory supplies manufacturer, based in Mt. Pleasant, SC, wanted a disposable barrier bottle for customers who ordinarily use glass bottles to conduct water cleanliness tests. EE saw the Actis system as the right technology for its needs. With minimal volume requirements, however, EE soon discovered that the surest way to get what it needed was to buy the Actis system itself and partner with Grafco to commercialize the technology. This partnership effort is what led to the Actis system being installed at Grafco's Morrow plant. Grafco will make the injection/stretch blow-molded 300-mL (10.14-oz) bottles that EE needs and will be licensed to make and sell coated PET bottles to any other customers it identifies. According to Grafco, one beverage bottle and two food containers are now in development.
"Disposability is the key benefit we were after in seeking an alternative to glass," says EE president Paul Strickler. "Also beneficial is that these bottles are lighter and don't break. And because they're not designed to be washed and reused, a test of a water sample can never be compromised by soap residue left in a bottle."
Actis is a system that deposits a thin layer of amorphous carbon on the inner surface of a bottle. The carbon bonds molecularly to the inner walls of the container to prevent ingress or egress of oxygen. According to Strickler, it's significant that the coating is on the inside wall.
"Oxygen can be trapped in the sidewall of a PET bottle," he explains. "If the barrier coating were on the outside of the bottle, that oxygen could make its way into the water that's being tested, thus skewing the test results. But the Actis coating on the inside wall prevents any such thing from happening."
EE sells the 28-g coated PET bottles for about 50¢ each. The 244-g reusable glass bottles were sold for $8 each. —PR
Companies in this article