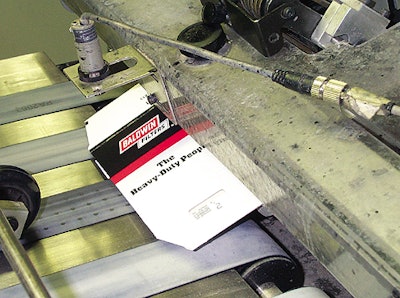 As long as Baldwin Filters made its oil, air, fuel, coolant, and transmission fluid filters exclusively for the heavy-duty truck and agricultural sectors, folding cartons played a minor role in the firm's Kearney, NE, manufacturing facility. Individual items were simply shrink-wrapped and shipped in corrugated cases. After all, why waste time and money on a folding carton when few of the products being manufactured ever came close to a retail shelf or anything resembling a display environment?
But Baldwin's needs changed considerably when it acquired a division that makes filters for everyday automobiles as opposed to heavy-duty vehicles.
"Car filters almost always go in a folding carton for display on a retail shelf," says Kearney plant operations manager Kent Jorgenson. "For a long time, the only way to get those cartons with a reliably scannable bar code and readable product-specific information like a part number or make of vehicle was to have our carton vendor print it on the carton for us."
Added cost
This approach, of course, added cost to each carton and meant that Baldwin had to carry a lot more inventory than it wanted to.
"So we started looking for a system that would let us buy just a few cartons, preprinted with basic Baldwin information and graphics, and then print variable information here in our plant as it's needed," says Jorgenson.
The system Baldwin selected for its requirements was the Carton Pro batch printing system from Paragon Machinery Corp. (Minneapolis, MN). Using a belt friction feeder to pull flat carton blanks out of a magazine one at a time, it feeds the blanks to a vacuum belt conveyor that runs beneath three Videojet (Wood Dale, IL) ink-jet print heads. The first prints part number, the second prints a bar code, and the third prints application information.
The Print Pro™ binary array printers run at speeds to 500'/min with a resolution of 300 dpi. The cartons are automatically shingled as they exit the third print head so that an operator can easily pick them up and place them in a corrugated shipper. The shipper full of cartons then goes to a cartoning operation out on the plant floor or at another Baldwin facility.
Software controls the flow
Passport Controller™ software from Paragon is at the heart of the operation. It interfaces with Baldwin's scheduling software so that cartons of like size and type can be run in groups. For instance, if seven different print messages are scheduled to be printed on a single carton size, all seven of those messages are automatically queued up in the Passport print control software. When it's time to change print messages, the PC running the Passport software communicates the new information automatically with no operator involvement.
"The main responsibility of the operator is to reload the carton magazine with fresh blanks and load up the printed cartons into cases," says Jorgenson. "With two operators, we can run as high as 600 cartons-per-minute on the smaller sizes. But 350 cartons-per-minute is the typical speed we run at."
The system's sensors count blanks as they go through, and carton infeed is automatically halted for five seconds once the last blank in a case batch has been printed. This ensures that operators have time to finish case packing one case batch of shingled, printed cartons before the next one begins to run through the system.
The efficiencies gained since the batch printing system was installed are impressive. "We can now buy a single carton where we used to need 50 or so," says Jorgenson. "And that's just in one carton size. We probably have 70 different carton sizes. We were paying a lot of money to preprint a lot of cartons."
No wonder the system paid for itself in about a year.
Companies in this article