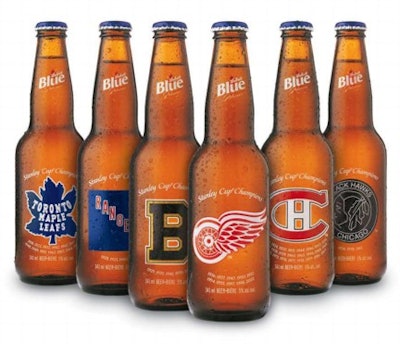 The series of limited-edition Labatt Blue bottles feature the six original National Hockey League teams decorated using RevTech's (Edison, NJ) Envirogluv technology. The organic polymer inks remove cleanly--just as a glued paper label would--during standard processing. The 341-mL (12-oz) amber refillable bottles can be returned to any North America brewery.
"The NHL playoffs have always been a great time for friends to get together over a beer and watch the action," says Nigel Miller, Labatt's director of public affairs. "By giving fans the opportunity to grab a Labatt Blue beer with their favorite team logos, the Original Six bottles celebrate the time-honored tradition that the playoffs represent."
The glass bottles are screen-printed in six colors by Alliance Labeling (Oakville, Ontario, Canada) on a specially equipped Envirogluv line.
"The Envirogluv technology allows us to remain committed to the industry standard bottle with all the benefits it brings, while at the same time being able to differentiate our flagship brand," says Miller.
Labatt has exclusive rights to Envirogluv technology in Canada for alcoholic beverages, according to RevTech.
The NHL bottles are automatically placed at random--one or more per specially marked case--in 24-packs in Ontario and Nova Scotia, 18-packs in Western Canada, New Brunswick, and Prince Edward Island, and 12-packs in Newfoundland.
How many of the collector bottles will be reused remains to be seen--even empty bottles are already proving popular on Internet auction site Ebay. The promotion will likely run through the end of May, depending on supply and demand, according to Miller.
Companies in this article