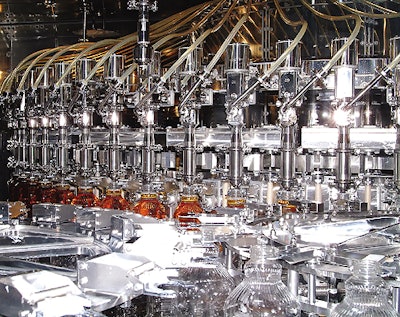 As a company we're deeply committed to continuous improvement, so we're always looking for the best technology out there if we think it will give us an edge in the marketplace. That's why we evaluated a number of aseptic systems before we selected this one."
That's how Mott's vice president of engineering Mark McAndrew explains the Aspers, PA, installation of what may be North America's most advanced aseptic filling system for plastic bottles (for a look at how secondary packaging is handled on the line, see next month's issue). Supplied by Japan's Shibuya Kogyo, represented in the United States by Shibuya International (Modesto, CA), the new aseptic system is hardly Mott's first. A division of Stamford, CT-based Cadbury Schweppes, Mott's has been converting from hot-fill glass to aseptic PET containers since 1993. But this is the first time Mott's opted for something other than a clean-room system.
"Throughout our '90s conversion to aseptic PET, we stuck with clean-room technology," says McAndrew. "With that approach, operators have to gown up and go through a thorough sanitation process to minimize the microbial load they might otherwise bring in. With the closed system in Aspers, only the bottle path is sterile. The operators remain outside and access the equipment through glove ports. It addresses the most fundamental fact about aseptic packaging, which is that humans introduce more bacteria into the process than anything else. By separating them from the rinsing/filling/capping operations, as we do here, we're a step ahead of the game."
There are other benefits to a filling system that doesn't require garbed operators in a clean room, says McAndrew. The cost of the gowns, masks, gloves, and foot-coverings is eliminated. And typically there's more uptime, he adds. "The bigger the space you're trying to keep under aseptic conditions, the more time it takes," he says. When small enclosed chambers are involved, cleaning is done and asepsis restored quickly so production can resume.
Apple juice, Clamato, and Hawaiian Punch are all bottled on the new line, which has been in production since August 2002. With its reduced juice content and its inclusion of preservatives, Hawaiian Punch technically doesn't need to be aseptically filled to be shelf stable. But for now, Mott's runs everything in full aseptic mode. In the future, whenever Hawaiian Punch is being packaged, the firm may elect to turn off the hydrogen peroxide spray that sterilizes bottles prior to filling.
Four bottle sizes are run on the Shibuya filler: 32-oz, 64-oz, 86-oz, and 128-oz. (1-gal). The largest runs at speeds to 220/min. All four are blown in-house on a new SBO-16 Series 2 system from Sidel (Norcross, GA); preforms are bought from a commercial injection molder. According to McAndrew, the choice of Sidel equipment for this line was based on past experience.
"On an earlier SBO-16 installed for 1-gal PET bottles of Hawaiian Punch, we made some modifications jointly with Sidel that helped us blow such a big bottle more efficiently," says McAndrew. "Those same concepts were applied to this project."
The blow molder sits in a room adjacent to the filler and provides bottles on an in-line blow/fill basis. That means if bottle-making goes down, so does bottle-filling. But that doesn't bother Aspers plant manager Tom Leedy. "We've found the Sidel equipment to be very reliable," he says.
And what if the downstream filler stops? "Having sufficient accumulation track helps," says Leedy. "The blow molder holds 300 preforms at a time, so if the filler stops, we stop sending preforms into the Sidel, blow all 300 of the preforms that are already in, and then accumulate all 300 of those bottles on our overhead air-conveying system until the filler is ready to go."
Provided by NTS (Tyrone, GA), the air conveying system is another departure for Mott's. PET lines elsewhere in the Mott's system rely on tabletop conveyors to bring bottles from the blow molder to the filler. Leedy says he's pleased with the way air conveying has worked so far.
Infrequent size changes
Like any blow-fill operation, this one is managed so that bottle size changes occur as infrequently as possible.
"Nominally, we run around the clock four days a week," says McAndrew. "And we may not change bottle size for that whole week. We can change flavors three times a day. But when you change bottle sizes, you have to change all the blow molds. Naturally, that takes awhile. It makes sense to do it during those three days we're not scheduled to run."
Exiting the room in which they're blown, bottles are conveyed through the wall and into the warehouse that holds the Shibuya system. Nearly 100 tons of metal, most of it stainless steel, went into the construction of the aseptic bottling system, including four miles of stainless-steel piping.
Suspended by their neck rings in the air conveyor, bottles enter the first of 12 aseptic chambers in the Shibuya system (see line diagram, page 47). According to Shibuya, these chambers create a totally sterile environment and maintain that environment for extended periods. All machine shaft penetrations into the aseptic zones are sealed with an oxonia drip seal to prevent the passage of contaminants into the aseptic zone.
The interior surfaces of the aseptic chambers and all surfaces of the equipment inside can be cleaned and sterilized with no need to open the chambers. Cleaning and sterilizing is automatically controlled and requires no human intervention other than at the human/machine interface panel where operators access the systems's main PLC.
The bottle infeed gripper wheel is the first of 20 rotary operations through which bottles pass before discharge from the last aseptic chamber. Along the way, bottles pass through five key operations:
• Exterior sterilization with hydrogen peroxide on a 40-station rotary platform
• Interior sterilization by hydrogen peroxide nozzles arranged in a linear fashion
• Heated air rinse on a 30-nozzle rotary platform; the heat activates the hydrogen peroxide so that it sterilizes fully
• Net-weight filling on a 72-nozzle rotary filler
• Capping on a 12-station rotary, servo-motor capper and discharge
Aside from the four rotary operations described above, 16 additional rotary operations are performed inside the aseptic chambers. These are transfer points from one operation to the next, or they provide residence time (see yellow in line diagram) or drainage time (see green in line diagram). Or, in two cases, they guide bottles into reject lanes (see blue in line diagram).
Crucial to the hand-off of bottles from one rotary wheel to another is that adjacent wheels complement each other. Take the first three wheels, for example. The first uses pairs of cam-operated grippers to pull a bottle from the air conveyor infeed. The second gripper wheel, on the other hand, has paired, spring-activated bottle holders into which bottles are pushed by the first gripper wheel. Gripper wheel number three goes back to cam-activated grippers that once again pull bottles from gripper wheel number two. This alternating pull/push/pull system is repeated all the way through the Shibuya system.
Thorough sterilization
Deputy plant manager Kurt Martin is impressed with how thoroughly the bottles are sterilized. "We're misting inside and outside with hydrogen peroxide that has been atomized at 300 degrees centigrade and then activated at 130 degrees centigrade. Following that comes a sterile water rinse, which gives us a residual hydrogen peroxide level of less than one part per million." Shibuya says the system is rated at less than 0.5 ppm.
Martin is equally pleased by the accuracy of the 72-valve electronic net-weight filler. "It isn't uncommon to have a standard deviation of six grams in this kind of filling operation today," says Martin. "On this system it's 0.3 gram."
Caps are sterilized, too. They're fed from an overhead delivery system and run through hydrogen peroxide mist followed by sterile water rinse.
"Every capping head has its own servo motor," says McAndrew. "You set the torque profile at the PLC, and if any capped bottle doesn't match that profile, the PLC is signaled and that bottle is flagged for automatic rejection." This data is also sent back to the main PLC so that a clear record of performance is readily available.
In spite of the complex bottle path, the 10 separate chambers, the 20 rotary operations that keep bottles moving through the complex aseptic system, and filling speeds to 220 1-gal bottles/min, stoppages caused by mechanical difficulties have been few and far between.
"The reliability of this system is phenomenal," says McAndrew. "It helps that bottle transfer never involves conveyors. Bottles are always suspended from their neck rings, a design that minimizes jams right from the start."
"The strategy behind a line like this is to start it up and run it continuously for days at a time," says plant manager Leedy. "And we've done that. But it is, after all, a machine made of parts. A spring on a rotary gripper, for example, could weaken and cause a jam. Whenever we can, we fix a jam via the glove ports. If it's a major jam, we go inside for repairs. That also requires a complete CIP/SIP cycle, which takes about nine hours."
Including processing, blow molding, filling, and secondary packaging equipment, the complete line cost about $26 million, the largest capital investment ever for Mott's. But the firm had little choice. Additional capacity was a must as demand for Mott's apple juice, Hawaiian Punch, and Clamato in multi-serve PET bottles continues to grow.
When it came to selecting a filling technology for the new line, speed, reliability, ease of maintenance—all had to be factored in.
"But what it really came down to," says McAndrew, "is which aseptic system for PET bottles would give us the best possible product at the lowest possible cost."
Plant manager Leedy figures the right choice was made. "We've been packaging on that line since August of 2002 and haven't had a single bad bottle due to microbiological spoilage."
Companies in this article
Videos from Shibuya Hoppmann Corporation