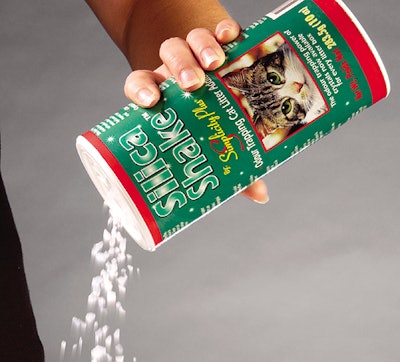 Shaking away cat litter odors
New packaging initiatives in the pet-products category aren't confined to pet foods alone. Ontario, Canada-based Normerica Inc. has recently introduced Simplicity Plus® Silica Shake™ cat litter additive in a composite canister with shake-and-pour top from Sonoco (Hartsville, SC). The container allows cat owners to fight litter box odors by shaking out a dose of odor-trapping silica gel crystals.
"This unique canister format allows for quick and easy dispensing," says Normerica's Karen Tanner.
The 302x608 composite cans are equipped with a plastic rotor-top dispensing system and a friction-fit plastic bottom. The rotor-top dispensing system provides cat owners with two dispensing options including a three-screen shaker opening for sprinkling and a larger teaspoon size opening for pouring or spooning. The top has finger tabs that allow for easy opening and reclosing.
According to Normerica, they chose to use the shaker top can for added customer convenience. But it turned out to be easy for the manufacturer as well. "Although unique in design and format, production of the new Simplicity Plus canister was relatively easy to implement at our Brantford, Ontario, manufacturing facility. Not having to purchase additional sealing equipment was a big plus," Tanner says.
Sonoco delivers the cans to Normerica with the rotor-tops glued in place, ready for filling. Once filled with 10 oz of silica gel crystals, line operators slip the plastic friction fit ends in place and the packaged product is finished and ready to ship.
See the story that goes with this sidebar: Convenience is key