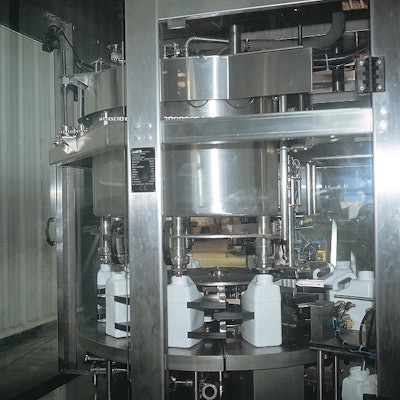 Aptly titled "Record!!!," a November 2002 e-mail from Micro Flo's technical assets supervisor Phillip Moody to the company's Sparks, GA, production crew brimmed with enthusiasm. Behind the excitement was the performance of a new indexing filler-capper that has more than lived up to the company's expectations.
Specifically, the e-mail described how during a one-shift test run, the machine filled and capped 8겈 1-gal high-density polyethylene F-style containers, 968 more than the company's goal. It did so with a standard product weight deviation of only 3.2 g/container, much better than the target of 5 g/container. And the output and accuracy were reached without any leakers. The equipment continues to run at or above Micro Flo's target goals. Better yet, it saves the company $154귔 in annual labor costs.
The test run occurred in November, about a month after Micro Flo installed the Indexing PR 10/1000 Series E automatic indexing filler-capper from PACK'R North America (Batavia, IL). The test run was conducted once the product tank and ancillary processing equipment was installed. The machine fills liquid insecticides, fungicides, and plant-growth-regulating products into F-style containers, then applies a closure. Induction-sealed and labeled containers are sold to agricultural distributors, who in turn sell to farmers, who typically dispense the product from a tractor or airplane. The Series E machine has filled primarily 1-gal containers, though it will eventually be used by Micro Flo to fill sizes from 1 qt to 2½ gal.
Based in Memphis, TN, Micro Flo Co. is a subsidiary of BASF Corp. Micro Flo produces crop protection chemicals and offers manufacturing and distribution services. At Sparks, 64% of production is for the company's own products; 21% for "third-party" or private-label applications in which Micro Flo fills its products into containers bearing the customer's name; the remaining 15% of production is for "toll" customers for whom Micro Flo serves as a contract packager.
Step-by-step gains
Randy Connell, Micro Flo's manager of plant projects, explains that, before 1997, the company used a two-head filler that wasn't terribly efficient. "By initiating a hand switch, the machine would fill to the desired weight, then the operator would have to remove the container and place it on a conveyor belt for it to discharge to a hand-capping station," he recalls. "Depending on the type of container, case style, and if the case required a divider, the overall filling line was extremely labor-intensive. It took eight to 10 people, and we could get out 3ꯠ gallons on a good day."
In late 1997, the company replaced the old filler with two machines it built in-house. "We reduced the need for two positions with these machines, which could each produce as many as 4귔 gallons on one daily shift, with seven or eight people," says Connell. He notes that the two machines were rarely used together. "We would typically run different products on each machine, or different container sizes."
Although those machines did provide Micro Flo with some versatility, the company wanted to further reduce its labor costs and increase output. Eventually it found a solution through a sales representative who had sold the two-head filler but later joined PACK'R. He recommended the E Series filler to Micro Flo.
"The uniqueness of this machine is that it gives us the fill accuracy of a net-weight rotary filler, with the speed of an in-line filler," says Connell. "That's what drove us to this machine, after we had searched high and low. Speed is a key concern for us. We measure our output based on how many gallons we produce in a daily shift, and we needed to improve our line speeds. This machine will produce between 7ꯠ and 14ꯠ gallons per day, depending on container size," says Connell.
He says the company's typical output is 7겨 gal/day, after factoring in employee lunches, breaks, and start-up and shutdown times. "Best yet, we can do it with five or six people," Connell notes. One operator is needed to load containers; another at the filler; one to replenish caps, cases, and labels; and two to palletize downstream of the PACK'R machine.
Compared to its earlier filling process, Connell says, the company is saving 10괌 labor hours per year. (That averages out to five people working about 40 hours per week, 52 weeks per year). At $15 per hour, that creates $154귔 in annual savings.
How it works
The extrusion blow-molded containers are supplied by Lee Container Corp. (Homerville, GA). After molding, containers are treated inside and out with fluorine gas that allows the HDPE to accept solvent-based chemicals. Lee ships the F-style containers to Micro Flo packed in corrugated reshipper boxes.
At Sparks, a worker removes the containers from boxes and places them onto an infeed table with their handles facing the filler-capper, which is located about 12' downstream. The infeed table uses conveyors that carry the containers in lanes toward the discharge side of the approximately 10'-long table. Six of the 1-gal containers fit across the width of the table. When the six containers—one from each lane—reach the discharge end, suction cups grab them and transfer them onto a conveyor running perpendicular to the table.
The containers are conveyed to the machine's filling carousel. "The filler-capper looks like a rotary machine, but it is not," explains Connell. "The containers go into the machine, which uses grippers to index the containers into and through 10 stations in intermittent motion." The grippers include three primary tooling "pieces," two of which contain the bottle from one side, and a third from the other side of the bottle.
Containers enter the carousel at the first station and the container weight is "tared" at the second, with filling done at stations two through six. "It's a volumetric fill for a certain number of seconds," Connell says. "By incrementally filling each container, it's faster than filling it all at once," he contends. The seventh station is equipped with a 15-kg electronic scale connected to a dosing indicator that tops off the fill. With a weighing range of 3ꯠ divisions of 5 g, the scale provides greater fill accuracy than did Micro Flo's previous equipment.
Connell says the company didn't track giveaway by grams with its previous equipment, so it's difficult to determine savings attributable to reduced giveaway on the new filler-capper. However, with products ranging in retail price from $4 to $80 per gallon, it's understandable that reduced giveaway benefits Micro Flo.
The Series E machine uses a Microsoft Windows NT 4.0 operating system, with a combination of load cells and timers controlled by a software program that optimizes machine throughput by adjusting the fill time for each station based on the weight at the final fill station.
The PACK'R machine also includes a stainless- steel 316-L tank with a product infeed valve and level control, plus a clean-in-place system that Connell says "helps us with changeovers that increase our efficiency."
Although Micro Flo tries to run the same product for as long as it can to maximize efficiency, it does consider changeover speed an important factor. "We do a lot of changeovers," Connell says. "A complete line changeover takes up to eight hours, requiring tools. But most of that time is for our downstream case erector and packer. The filler-capper maybe takes an hour, and we can do it without tools."
Capping is done at the next station. Lee Container also supplies caps with liners for its 63-mm containers, though they're injection-molded of polypropylene by Rieke (Auburn, IN). Caps are filled into a hopper. An incline conveyor carries caps up to a sorter that orients them so that, as they move down a chute, they're in proper position to be applied to the filled bottle. The capping mechanism is servo-driven for torque control. A "cap pallet" takes the cap from the end of the chute and places it in a position above the filled container. In a second step, a cap chuck mechanism descends to the container and torques the cap onto the bottle.
The capped container is discharged from the last station on the carousel, conveying several feet past an Auto-Mate® induction sealer from Kaps-All Packaging Systems (Riverhead, NY). "We do this to meet certain EPA regulations, and to help prevent leaking," says Connell. Two workers are positioned just beyond the induction sealer to manually check for leaks. That's done by tipping and squeezing the containers while visually inspecting them. These workers also retorque caps onto the containers.
Next, containers pass an ink-jet coder from Videojet Technologies (Wood Dale, IL). That unit applies a Julian date code near the base of the bottle. Immediately afterwards, each container passes one of two identical CTM 360 Series pressure-sensitive label applicators from CTM Integration (Salem, OH). Micro Flo sourced the label applicators from distributor Fred H. Williams Co. (Hiram, GA).
"We use two labelers so that when the roll on one machine runs out, we can switch over to the other machine, replace the rollstock on the first machine, and never miss a beat," says Connell. Each unit applies an approximately 6"x6" label.
Labeled containers are conveyed downstream to an older case packer. Cases are automatically taped top and bottom, then palletized by hand, automatically stretch wrapped, with pallets placed into a warehouse before distribution by truck. Product shelf life ranges from one to two years, depending on the specific chemical.
Payback
At the time of Packaging World's visit, Micro Flo had purchased a leak detector from PACK'R that it expected to install later that month. "It will work on a pressure-and-time basis," says Connell, "and will use a cylinder with a strain gauge that temporarily stops the container on the line and applies pressure for a matter of milliseconds. A loss of pressure beyond our target parameters would indicate a leak." He says the detector will do the job faster and more accurately than the current manual method. It will also reduce labor costs. "It will eliminate the need for two people, who will be transferred to other areas in the plant."
At present, both Connell and Moody say that the new filler-capper has made a significant difference in the packaging process at Micro Flo. "We've been very satisfied with the equipment," says Connell. "We've also built a good relationship with the supplier. At the outset, we told them we needed to produce 7겨 one-gallon containers during a daily shift. When you add in breaks, lunches, start-up, and all, that comes to about 20 containers a minute.
"On our older manual filler we did five to seven containers a minute," Connell continues. "Then we did around 10 a minute on the equipment we built in-house and now use for our lower-volume products. So the new machine makes a big difference. We're able to get out more gallons per shift, with fewer labor hours, and with greater accuracy. It's justified our investment, and we expect payback on the equipment in two years. That's important because formulating and packaging is our business. We often use an expression around here that goes, 'We say what we do and do what we say,'" he states. "And the PACK'R machine is living up to its billing."
Companies in this article
Videos from All Packaging Machinery Corp.