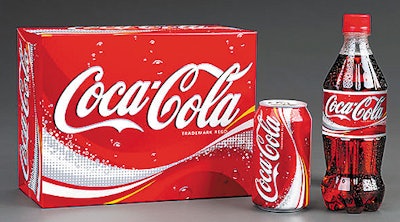 Launched in January, the goal of the new design "is to continue to make the Coca-Cola trademark brands contemporary and relevant and yet remain true to the brands' enduring heritage," said a press release from the Atlanta-based beverage giant. "The current design has been in place since January, 2000." The design change will be made to Coke Classic, Caffeine Free Coke Classic, Diet Coke, and Caffeine Free Diet Coke.
According to Petro Kacur, a Coca-Cola North America public and media relations representative, the company worked with international visual identity/design firm Desgrippes Gobe Group (New York, NY). "We did a lot of the design internally as well," he says. "It gives us a new look, reinforcing our brand values. We'll incorporate a more robust, richer Coke red, and a more subtle presentation of the contour bottle, along with the familiar Spencerian script. But we'll change from the graphic of the glass bottle with the product and cap splashing out of it."
Instead, Kacur says, "the new design will reintroduce the dynamic ribbon device, or what people call the wave. The intertwined ribbons will be modified with a thread of bright yellow." He says the word "classic" will continue to appear on all packaging in the United States.
In addition to the packaging redesign and a new advertising/marketing campaign, the company has launched a "sharing a Coke" promotion that involves a special can. From January through March, the company plans to sample more than one million Cokes in the special can with young people nationwide. To do that, sampling teams, driving Coke-branded vehicles, will visit shopping malls, concert venues, parks, and sporting events.
The sample, an 8.4-oz aluminum can (shown opposite), "was purposefully chosen for this program because the contemporary design invites consumers to see the product in a new light," notes the release. The slender cylindrical can is noteworthy because the famous Coca-Cola icon is not the bright white color consumers are used to seeing.
"We didn't want to use the same graphics for this can," says Kacur, "because we want consumers to view this as separate. We believe that by using a red 'wash' over the script, it creates a subtle difference and evokes curiosity." Coca-Cola says the package is not commercially available, though it is considering a rollout for it. Kacur says the cans are filled at a Coca-Cola-owned facility, but at press time, no details were available about the can supplier or specifications, or if new filling equipment was necessary for the unusual can. —JB
Companies in this article
Videos from All Packaging Machinery Corp.