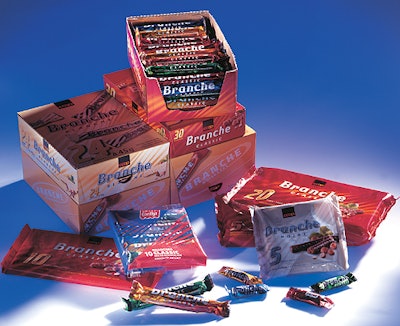 A short time ago, when Chocolats Halba of Wallisellen, Switzerland, took a good look at how its popular Branche-brand chocolate bars were packaged, two key shortcomings were quick to surface. First, the bars were wrapped in foil that was tightly folded but not actually sealed around each bar. This package allowed air to reach the product, so freshness was compromised. Second, cartoning and multipacking operations were far too labor-intensive.
So the firm replaced its wrapping material with a new cold-seal flow-wrap film that not only provides better protection but also looks better and costs less. With the new material came new machines, too. In fact, a whole new line from SIG Pack Systems (Beringen, Switzerland) was installed, a line uniquely designed to accommodate four primary pack sizes, six film-wrapped multipacks, five cartons for individual bars, and six cartons for multipacks.
Why so many secondary packaging formats? Because the product is sold through large wholesalers, mid-sized supermarkets, and tiny shops. Consequently, the bars are sold individually or in a variety of secondary packaging, depending on the outlet that's doing the selling.
The sheer number of pack varieties has always been an obstacle to automated equipment. So until the new line was installed, Chocolats Halba handled secondary packaging by relying heavily on manual labor, says technical engineer Urs Preisig.
"As we used to do it, the packaging required about 14 people," says Preisig. "The new line runs with no more than six people regardless of which primary or secondary package we're running."
Speeds are impressive, too. The four bar sizes packed on the line are 7, 22, 33, and 45 g (0.25, 0.78, 1.16, and 1.59 oz). "We run the smallest bar at 760 pieces per minute and the largest at about 360," says Preisig.
Begins with accumulation
Consisting of six key pieces of equipment (see diagram on p. 53), the packaging line begins with a side-by-side pair of SIGDAA storage systems. Each is equipped with multiple rows or lifts that elevate and store chocolate bars at a rate of 28/min and then discharge them at 32 rows/min. The system's main function is to provide an accumulation area that can keep accepting chocolate bars even if the downstream equipment is not in operation.
SIG Transver feeding conveyors take the bars to the next unit, a SIGHSM pillow-pack wrapper. Preceding the wrapper itself are three infeed modules that provide a short amount of accumulation to make sure the flow wrapper is never starved of product. They also turn each bar 90° from a transverse to the in-line orientation required for flow wrapping.
The HSM pillow-pack flow wrapper encloses all four bar sizes in a cold-seal oriented polypropylene that's printed flexo in up to five colors. According to Preisig, the tight seals inherent in a flow-wrapped OPP make for a package that protects product freshness much better than foil that is folded but not sealed.
The flow wrapper applies more than packaging material around the chocolates. It's also equipped with a cold-glue sealing station that pulls roll-fed plastic film tear strips from rolls and applies them to the inside of the film. The tear strip material is supplied in rollstock form. Running down the length of the left and right sides of the finished package, these strips become easy-open features.
Preisig is especially pleased to note that in addition to offering better product protection and ease of handling, the OPP wrap also costs less than the foil it replaced. He declined to quantify the savings.
Mounted on the wrapper is a Markem (Keene, NH) ink-jet coder that gives each pack a date and production code.
Changeover on the flow wrapper is accomplished in part by accessing a drop-down menu at a human/machine interface panel and selecting parameters stored in memory. All HMI panels throughout the line are identical, a reflection of the SIG Systegra controls concept operating on the line. Central to the Systegra concept is a controls philosophy that combines motion and logic into one integrated controller, a ControlLogix unit from Rockwell Automation (Milwaukee, WI). Not only does this make the system simpler overall, it also means that less programming and less operator training are required than when motion and logic are controlled separately. Also, thanks to an Ethernet connection that's part of the controls package, troubleshooting and support can be delivered online from a remote location.
Feeding wheel
A short distance downstream from the flow wrapper is a SIGFWV feeding wheel. Cantilevered over the discharge conveyor of the flow wrapper, this rotary transfer device is designed to deliver much gentler handling at high speeds than comparable systems that don't incorporate a rotary approach. It uses 12 vacuum pickup cups evenly mounted around its circumference to pick individual bars, turn them 90° to a transverse orientation, and place them on the flighted infeed conveyor of either a SIGHBM multipack wrapper or a SIGTTL-piF top-load cartoner.
The HBM multipacker is capable of speeds to 120 multipacks/min. It operates much like the upstream pillow-pack flow wrapper except that it uses heat-seal film rather than cold-sealed OPP.
Only the 22-g and 45-g bars are sent through the multipacker. The 22-g bar takes four different formats. Multipack A is five bars wrapped together in a single layer, B is 10 bars wrapped in a single layer on a paperboard card, C is two layers of five bars each on a paperboard card, and D is two layers of 10 bars each on a paperboard card. The 45-g bar is in either Multipack E, three bars in a single layer, or F, eight bars in two layers on a paperboard card. The HBM multipacker is equipped with a magazine-fed pick-and-place device that automatically inserts paperboard cards when they're called for. It also has a station where one layer of bars can be stacked on another.
Once again, quick changeover is crucial when so many varieties are in the picture. According to Preisig, changeover on the multipacker can take as little as 30 min if the number of layers doesn't change.
Cartoning
The next piece of equipment in the line is a SIGTTL-piF top-load cartoner. It forms cartons from flat blanks and loads either individual bars or multipacks into the cartons.
When it's handling individual bars of chocolate, it does so in five formats. With 22-g bars, it produces five layers of 10 bars each or three layers of 10 bars each. With 45-g bars, it produces three layers of eight bars each or five layers of eight bars each. And 33-g bars are cartoned three layers high, six bars per layer.
In handling multipacks, the top-load cartoner is capable of speeds to 120 multipacks/min. It produces six different formats, four of them involving 22-g bars while two involve the 45-g bar. Multipack A is cartoned six layers high with each layer in a 2x3 arrangement. Multipack B is cartoned six layers high with each layer in a 1x3 arrangement. Multipack C is cartoned three layers high with each layer in a 2x3 arrangement. Multipack D is cartoned three layers high with each layer in a 1x3 arrangement. Multipack E is cartoned two layers high with each layer in a 1x6 arrangement. Multipack F is cartoned two layers high with each layer in a 1x6 arrangement.
The robotic arm of the cartoner can be fitted with one of two grippers, one for individual bars and another for multipacks. Each gripper weighs 15 kg (33lb) and can be changed by one operator. A lever releases the gripper, and the replacement gripper can be in place in about a minute.
Each gripper can also be modified according to the arrangement of vacuum pickup cups required. Again, a lever release allows this change to be made in minutes.
Exiting the cartoner, cartons move into a SIGTTV lidding machine. Using vacuum pickup, it picks paperboard lids from a magazine and hot melt glues them to the filled cartons. Marketers at Chocolats Halba like this carton/lid combination because it provides an effective in-store display once the top is torn off at the perforations.
Cartons exiting the top-load cartoner are conveyed past a pressure-sensitive labeler from Pago (Buchs, Switzerland) that applies promotional labels when they are called for. A similar unit downstream from the multipacker applies a similar label to multipacks. Case packing, for now, has not been automated.
Though the line has been running now for nearly a year, Preisig remains impressed by its versatility and by how little time is required to effect a changeover. "It's unusual to be able to do so many pack styles on one line," says Preisig. "Not only that, we've improved product quality and appearance and made the package easier to handle. It's a whole new packaging philosophy."
Companies in this article