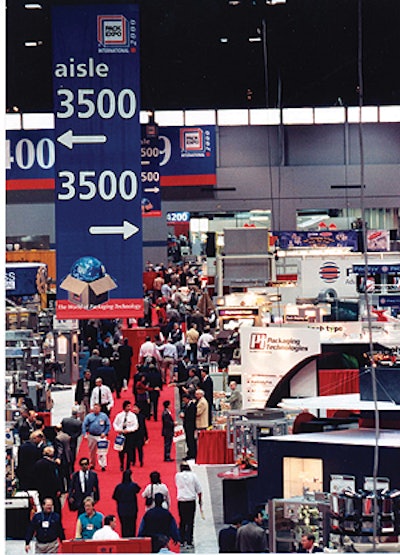 Packaging professionals from around the world will flock to Chicago's McCormick Place November 3 through 7 for Pack Expo International 2002, sponsored by the Packaging Machinery Manufacturers Assn. (Arlington, VA). Among the more than 1길 exhibitors who will greet them will be 250 "new to Pack Expo" exhibitors, allowing attendees to gain even greater industry insight and view more new packaging innovations.
Once again the International Exposition for Food Processors (IEFP), sponsored by the Food Processors Machinery & Supplies Assn. (Alexandria, VA), will co-locate with Pack Expo. That will bring the total number of exhibitors to more than 1꽤.
The exposition will be open from 9:00 a.m. to 5:00 p.m. Sunday through Wednesday, and from 9:00 a.m. to 2:00 p.m. on Thursday.
Also scheduled for November 4 through 6 is the Conference at Pack Expo, three full days of presentations from more than 50 industry experts and insiders (see p. 91 for a complete schedule).
And don't forget the three "Eye Opener" Plenary Sessions on November 4, 5, and 6. Featured will be representatives of Georgia-Pacific, Ernst & Young, Wal-Mart Stores, General Mills, and Osram-Silvania.
Global show
Pack Expo attendees come from all parts of the world, says PMMI president Charles D. Yuska. "Pack Expo International attracts senior specifiers and buyers from around the world. This year's international attendance is expected to grow to more than 7귔 attendees, which is approximately 15 percent of the show's total visitors. International attendees will originate from 60 countries, with strong representation from South America, Asia, and Europe."
Surrounding Pack Expo International 2002 will be a number of other packaging-centered activities. The Institute of Packaging Professionals will hold its AmeriStar Awards Reception at 5:30 p.m. on Wednesday, November 6, in the Vista Ballroom at McCormick Place. The winning packages of the 13th annual AmeriStar competition will be displayed in the IoPP booth on the Grand Concourse at Pack Expo International. (For tickets and other information, contact Carole Schiller at 630/544-5050.)
The Packaging Education Forum (PEF) will induct five career packaging professionals into the Packaging Hall of Fame during the Packaging Leadership Awards ceremonies November 5 (for more on the PEF Hall of Fame ceremonies, see p. 85).
Also honored at the ceremonies will be Eastman Kodak Co. of Rochester, NY, the firm selected by PEF as this year's Packaging Leader of the Year (see story below).
And Women in Packaging will use Pack Expo International to unveil its new Web site, www.PackagingUniversity.com. The site will provide education, training, and professional development resources to those who work in the field of packaging.
Register online
The easiest and most cost-effective registration method is via the official show site for Pack Expo International 2002, http://pei2002.packexpo.com. Attendees registering on or before October 11 will save 50% on registration fees. Other alternatives include calling PMMI's Fax-On-Demand line (U.S. and Canada only) at 1-800-585-8098, or contacting PMMI's Show Department by telephone at 703/243-8555, or by email at expo@pmmi.org.
While registering online, attendees can see an up-to-date exhibitor list and show floor plans. And Virtual Exhibits let attendees conduct preliminary research by providing access to product brochures and company news and announcements.
A complete alphabetical list of Pack Expo exhibitors begins on p. 100. In addition, many exhibitors will be unveiling brand new products, and some of these are reviewed within the online exhibitor listing.
See sidebar to this article: Eastman Kodak named Packaging Leader of the Year
Companies in this article