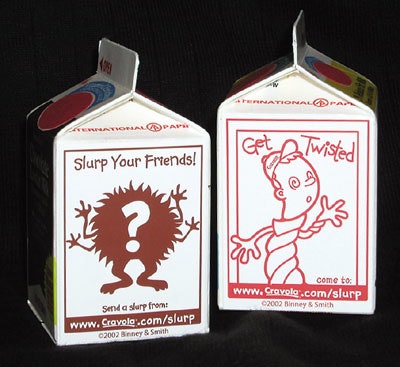 The program will reward youngsters for drinking milk, and provide teachers an opportunity to win Crayola-brand school supplies. The 2002-2003 school milk program began August 1 and will continue for 40 weeks.
Cartons will be printed with a "Kids' Power" theme on one side. The panel will include puzzles and brainteasers whose answers can be found on the www.crayola.com/slurp Web site to allow students to participate in interactive online activities. The Eco-Pak® cartons are flexo-printed in four colors; two colors for the promotion on the side panel.
Each week, a Crayola "package" worth more than $100 will be awarded to a teacher. "The school milk program provides another way for us to engage kids with the Crayola brand, and stimulate their creativity in a fun, interactive way," notes Susan Tucker, a Binney & Smith spokesperson.
Carton blanks will be shipped to more than 200 dairies throughout the United States for filling. IP produces the 8-oz and 10-oz cartons at its Kalamazoo, MI, Framingham, MA, and Turlock, CA, converting plants using paperboard from IP's bleached board mills in Pine Bluff, AR, and Texarkana, TX. Board structure and thickness information were considered proprietary.
Some 15 different messages will be printed onto these panels, according to an IP representative.—JB
Companies in this article