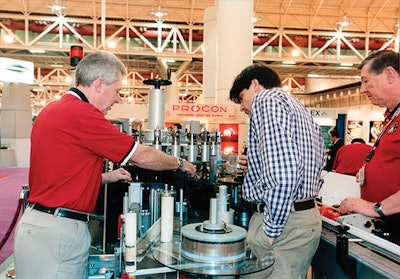 InterBev 2002 hits the World Congress Center in Atlanta October 20 to 22, and once again the show sponsors anticipate attendees will represent a wide variety of beverage categories. Among the participants expected to be in attendance are not only representatives of the beer and soft drink categories, but also marketers of water, tea, and milk. Rounding out the attendee list, say show sponsors, will be mass merchandisers and representatives from the supermarket, drug store, and convenience store sectors.
The trend toward retailers attending the event, combined with the usual energy that comes from the supplier side, is expected to enhance the networking opportunity at InterBev for the entire beverage community.
"InterBev's outreach on both supplier and buyer sides has been steadily expanding to include more retail segments as well as more product categories," notes Eileen Baird, vice president for InterBev 2002. "Bringing all segments of the industry into one global event offers significant economic benefits to both attendees and exhibitors by housing all buying and selling resources."
A full conference program has been developed by numerous leading organizations representing the worldwide beverage industry. Topics on the packaging front include Will PET Packaging ever slow down? The dynamics of a 'maturing' market, by John Maddox of Container Consulting, and The seven golden rules of package design, by Robert Wilkes of Monaghan & Co.
Other highlights of the conference include three keynote addresses. On Sunday, October 20, at 11:00 a.m., Barry Shull, global group category director of ExxonMobil, will address Convenience store retailing best practices. That evening, at 5:30 p.m., Jeffrey T. Dunn, president and CEO of Coca-Cola Americas and Executive VP of the Coca-Cola Cos., will deliver an address prior to the InterBev opening reception that is sponsored by Coca-Cola Cos. And at 9:00 a.m. on Monday, October 21, Peter Van Stolk, president of Jones Soda Co., will discuss Marketing to today's youth.
A complete look at the conference program is available at the InterBev Web site, www.interbev.com. Registration can be done online, as well.
Interbev 2002 is the beverage industry's largest all-beverage trade show. The event is organized by Reed Exhibition Cos. and is sponsored by the National Soft Drink Assn. and Beverage World Magazine.
For a look at InterBev exhibitors by category (including a sizeable packaging category), visit www.inter bev.com.
Companies in this article