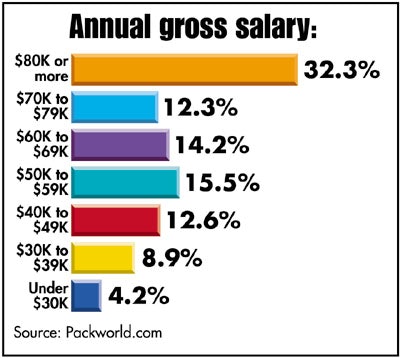 Wake the neighbors and get the word out: Packaging jobs can be downright lucrative. That's according to 389 respondents to Packaging World's third salary survey, conducted in March and April on PW's Web site, Packworld.com.
Nearly 87% of respondents reported that their annual gross salary topped $40ꯠ, with 32.3% pulling down upwards of $80K (see Chart 1). Because replies were exclusively of the electronic variety—coming from those who can afford computer hardware and software and Internet access—it's possible that the incomes skew upward compared to two previous surveys that were conducted by regular mail (see packworld.com/go/037 and packworld.com/go/038 ). However, salary growth reflected in this survey is commensurate with income levels reported in those 1997 and 2000 surveys.
The news about packaging salaries parallels the positive results of an earlier Packworld.com survey regarding job security (see packworld.com/go/039). The combination of climbing salaries and job security is especially encouraging given the layoffs, wage freezes, and pay cuts reported by companies nationwide in the past year or two.
Understandably, few respondents voiced salary-based complaints. Those that did, however, brought up some thought-provoking issues (see sidebar).
Survey respondents also said they received handsome benefits (see Chart 2). More than 96%, for example, enjoyed medical insurance; 85.7% had a 401K or similar plan; 84.7% had life insurance; and three of four had disability insurance. Less common benefits, such as family leave, were listed by 40.1%, flextime by 29.8%, and training for promotion by 17.1%.
Asked in a separate survey question about vacation time, 35.8% received three weeks, 31.1% had two weeks, and nearly 30% reported four weeks or more. Only 3.1% said one week, hinting that even employees with little experience were likely to receive more than one week of annual vacation.
More responsibility
Despite the hardships endured by workers in some industries, more than a third of packagers responding to this survey said they faced no job changes in the past year (see Chart 3). The most oft-cited change was more responsibilities without more pay, by 31.8% of respondents.
This lament was also common in the first two salary surveys, and was the subject of many verbatim comments from this survey's respondents. Three concerns voiced frequently by packagers were excess time spent in meetings, time spent away from family on business trips they did not always feel were fruitful, and time spent on "boring" paperwork.
In some cases, additional job responsibilities resulted in longer hours. Nearly two-thirds (64.7%) said they worked 40 to 49 hours a week; 25.6% reported they worked 50 to 59 hours per week; and 6.4% put in more than 60 hours a week. Only 3% said they worked fewer than 40 hours per week.
The next most frequently mentioned job change in the past year was switching to a new company or changing jobs (15.2%). It's uncertain if those changes were by the respondents' own decision or due to layoffs. However, the fact that only 5.1% of respondents said they experienced either packaging-related budget or staff cuts in that time makes it more likely that those who changed jobs did so to advance their career. Another 10.5% of respondents noted they had been promoted to a new job in the past year.
More than one in five respondents received no pay increase in the past year (see Chart 4). The only response mentioned more frequently was a modest boost of 3% to 4.99%, listed by 36.5% of respondents. Only 7.3% could boast of a double-digit pay hike.
Without big salary increases, survey respondents took considerable job satisfaction in decision-making autonomy. At 43.6%, that answer topped a list of categories that provided job satisfaction (see Chart 5). Company appreciation and advancement potential also were seen as important means of job satisfaction.
If respondents had the choice, they would like to spend more time keeping current with technologies, planning for the future, analyzing cost-reduction opportunities, improving packaging processes, and conducting more up-front project engineering.
Demographic influences
With nearly one in three respondents earning at least $80K, common sense might say that those answering the survey had considerable years of service behind them. However, only 7.7% had worked in their current position for more than 20 years. Most (47.3%) reported longevity in their current position ranging between one and five years. Nearly 18% worked for six to 10 years in their current post, and fewer than 15% reported 11 to 19 years of experience in their current position. Only 12.3% reported having their jobs for less than a year. Asked how many years they've worked in packaging, about 29% said one to five; other responses ranged between 20% and 22%. (For a look at who participated in the survey, see sidebar.)
Education level and packaging-specific education also affected salary levels. For example, though only 18.3% of respondents had earned a postgraduate degree, 57.1% of these respondents made $80K or more, while nearly 26% of this group earned between $60K and $80K. Most survey respondents (55.1%) had a four-year degree. Of this group, one-third earned $80K or more. Only 10% of those with a four-year degree reported salaries below $40ꯠ per year.
At the other end of the spectrum, only 15% of those who reported no college made upwards of $69K, with most earning less than $59K. Those respondents with two-year degrees saw earnings that were balanced fairly evenly among the salary ranges, with $30K to $39K and $40K to $49K the most common ranges.
Determining the impact on salaries from packaging-specific education is more challenging, in part because only 23.3% of respondents said they had such education. More than a third of them earned at least $80K annually, while 37% made $60ꯠ to $80ꯠ. The respondents without packaging-specific education still earned decent paychecks. In fact 31.7% made upwards of $80K, though the next most frequent annual salary ranges were from $40ꯠ to $69ꯠ.
Much like financial advice that tells potential investors that past performance is no guarantee of future results, the good news from this salary survey is no guarantee of a rosy future. However, there seems to be more than a grain of truth to the conventional wisdom suggesting that the function of packaging is somewhat shielded from volatile economic swings as compared to individual industries.
For additional charts, see "The skinny on job satisfaction"
See sidebar to this article: Few dissatisfied with salaries