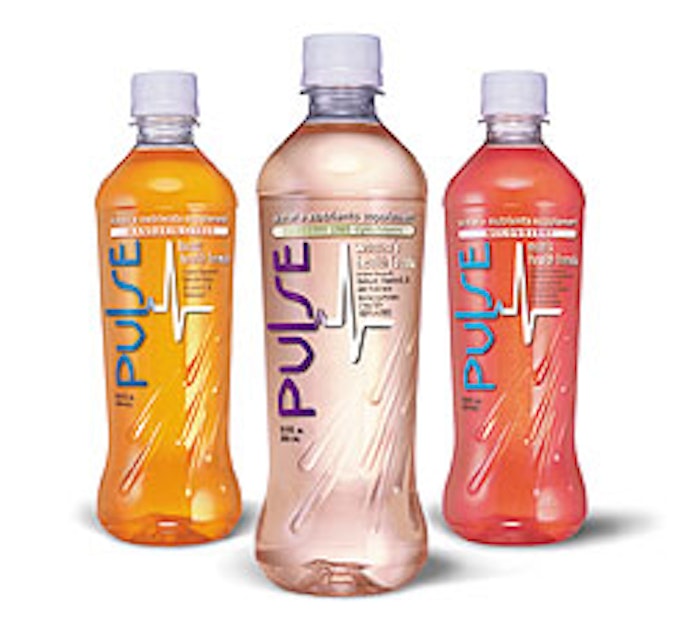 Baxter is a global healthcare company.
The Pulse water + nutrients supplement line was created to provide adults with a convenient way of obtaining beneficial vitamins and nutrients. The 500-mL custom blow-molded PET bottle from Schmalbach-Lubeca (Manchester, MI) was designed with the same notions of convenience and simplicity in mind.
"It's a very unique bottle," says Karen King, president of Baxter's Pulse division. "Pulse is a smart way for adults to get added nutrition. All we needed was a smart package to go with it."
The clear bottle is decorated with two clear biaxially oriented polypropylene pressure-sensitive labels designed by PackagingARTS (Mare Island, CA). Graphics are both screen- and flexo-printed on the 2-mil label.
A pattern of raindrops molded into the side of the bottle proved a challenge for label registration early on. The raised surface prevented the company from decorating the bottle with a more standard-shaped or wraparound label. Instead, the front label is triangular, while the back is rectangular. After the bottle is shipped to Packaging Arts from Amcor, labels are applied to the empty containers on a rebuilt machine that was created to accommodate the Baxter packages. They are then filled at a contract packager.
Available in Phoenix and Chicago markets in May with plans for eventual national distribution, Pulse water + nutrients supplement comes in three varieties. Pulse retails for between $1.79 and $1.99. —ALR
Companies in this article