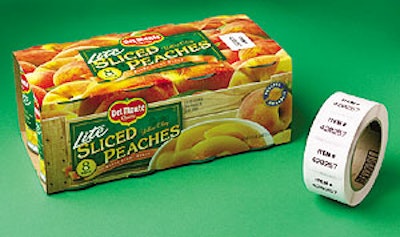 When does one plus one equal zero? For label roll switch-overs at the Del Monte Foods Company, a pair of interconnected label applicators adds up to zero downtime, which equals high efficiency for this San Francisco-based food producer and distributor.
The math-defying labeler tandem was operational in early 2001 at Del Monte's Central States Distribution Center in Rochelle, IL, a 440ꯠ sq' facility that services 19 states. Unlabeled cans of fruits or vegetables destined for club store markets are depalletized, labeled, and then collated and packed into a colorful paperboard carrier by a three-year-old multipacker.
For packs done for Costco club stores, a small identification label is applied to the top of six- or eight-count multipacks by one of two Universal Labeling (St. Petersburg, FL) labelers. When one labeler's supply of rollstock reaches a preset minimum, the other will automatically take over (see schematic). This eliminates any downtime for a roll change.
Positioned about five feet apart just downstream of the multipacker, the labelers are linked through a programmable logic controller. Packaging World is told that though the Model SL 2000 High-Speed Stepper Driven Label applicators are stock units, the integration at Del Monte was custom.
"The system doesn't miss a beat," emphasizes Dale Rand, special packaging shift supervisor. "Zero downtime is a very nice benefit."
Labels are applied at speeds of 150/min for six packs and 125/min for eight packs. After the sticker is applied, the packs continue around a U-bend section and travel on an overhead conveyor for palletizing.
The labeling setup was specified, distributed, and installed by Illinois Marking & Sealing (Elk Grove Village, IL), now part of the Glennon Group. IMS had also provided the label stock and a Sato (Sunnyvale, CA) printer used offline to print the labels shortly ahead of the production run. The printer is mounted atop a wheeled cabinet positioned near the labelers.
"It's cost-effective and requires little inventory to do it this way," notes Rand.
This type of arrangement seems ideal for a print-and-apply application, so why not here? Rand replies that there were two reasons, the biggest of which was cost. The other was that "we do a lot of offline printing for which we don't necessarily need the applicators," Rand says. They use the printed labels elsewhere within the DC as well as at other Del Monte facilities for lower-volume manual application to packs.
Join the club
In fall 2000, Costco approached Del Monte regarding its interest in their paperboard multipacks. The colorful wrappers are offset-printed in five colors plus coating by Rock-Tenn (Norcross, GA) on 24-pt paperboard for six packs and 26-pt for eight packs.
Costco required that an item number identification, separate from the UPC code, be included on the package. One way for Del Monte to do that was to stock carriers printed with the Costco item number, an alternative deemed costly and inefficient. According to Rand, a less costly and more efficient option was to add a pressure-sensitive label, or what Del Monte calls a "sticker," onto the top of the multipacks. With the label printer, the label stock can be custom printed at Del Monte's convenience.
The 1¼'' x 1¾'' sticker is printed with "ITEM #" and the seven-digit number. Each 8''-dia roll contains 12ꯠ labels. The labels are 50# paper face stock with permanent acrylic adhesive on a 40# liner supplied through Glennon.
It's common for the labelers to make about two automatic switch-overs per shift. An operator then resupplies the offline labeler with a freshly printed roll. Currently, Del Monte provides Costco with 23 different stockkeeping units in either a 3 x 2 or 4 x 2 pattern. These include multipacks of mandarin oranges, whole kernel corn, fruit cocktail, sliced peaches, and french style beans. Costco's packs represent about 15% of the total number of items the company packs for club stores.
Quick start
The initial setup for the exact label positioning onto the multipacks, done at the startup months ago, is said by Del Monte mechanic Paul Davis to have been a simple undertaking. "The installation and startup was done within a day and was essentially a 'plug-and-play' proposition," he says. "Label placement is accurate and consistent."
Changes between six- and eight-count packs require a mechanical change that takes only a few minutes, according to Davis. He reports that a touchpad panel on each labeler that is used to make positioning adjustments has remained unused: "We haven't had to touch a thing on it since the startup," Davis says.
"There's no downtime for changing over the labels," sums Rand, "and we don't have to inventory extra carriers. The system has met all of our expectations."
See sidebar to this article: Set up for Del Monte's dynamic duo
Companies in this article
Videos from Universal Labeling Systems, Inc.