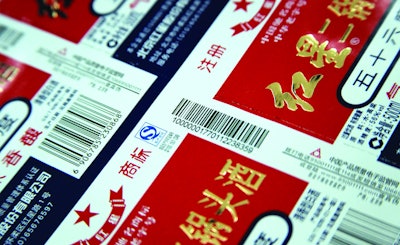 In an effort to improve product quality, safety, and authentication, China in 2007 established a Product Identification Authentication Tracking System (PIATS). As a track-and-trace system, PIATS involves the serialization of pharmaceuticals, foods, and beverages mainly for primary and secondary packaging. The use of PIATS continues to expand to the packaging of many different products to enable traceability and to stem the proliferation of counterfeit products.
Seeking to meet PIATS requirements, machinery maker/systems integrator Hailong Machinery Group Co., Ltd., of Qingdao Jimo City, China, partnered with RSI to develop printing systems that incorporate HP thermal ink-jet (TIJ) technology for the printing of bar codes and text on primary and secondary packaging.
Established in 1999, The Hailong Group's Web site describes the company as a medium-sized machinery manufacturing enterprise, with total assets of 3.2 billion yuan. Physically, the company's plant covers 180,000 sq m, with more than 280 types of machinery and CNC machining, stamping, welding, and casting equipment. Its more than 600 employees produce products for auto mold, sheet metal products, casting products, machining operations, and exports of machine tool casting products.
Hailong's cooperation with RSI began in 2003 as a way to introduce a new ink-jet system for printing variable data. At the inception of the partnership, the primary applications targeted were printing business forms and tax invoices in China.
"We found RSI's ink-jet system stable, reliable, reasonably priced, easy to operate, and very versatile," explains Miao Hailong, president, Hailong Group. "We felt that with the evolution of computers and the development of the Internet, the demand for variable data printing would definitely increase."
Hailong integrated RSI's printers into its sheet-fed, roll-to-roll, fold-to-fold, and packaging print solutions. This fostered development between the companies and advanced HP TIJ into the industrial printing market in China. RSI systems are powered by HP TIJ technology for printing bar codes and text. RSI's rugged printheads and other features are designed to maintain precise alignment and produce repeatable, high-quality bar codes in high-speed, industrial environments.
Of the 2007 introduction of PIATS, Hailong notes, "PIATS first applied to seven categories in nine main classes of food products. It was fortuitous that the sheet-fed ink-jet printer we developed with RSI was suitable and cost-effective for this purpose. Between 2007 and 2008, we made a number of breakthroughs in this field with our RSI-based solution. China has now extended PIATS to include all pharmaceutical products."
During the initial phase of implementation, Hailong encountered some difficulties reproducing high-quality bar codes efficiently. However, the company was prepared because some of its equipment used in other sectors could already produce the fine-pitch bar code required for PIATS. When China mandated the full implementation of PIATS in 2010, Hailong's technology helped position the company for a sales breakthrough.
The HP value-add
At the heart of RSI and Hailong's PIATS system is HP's TIJ technology. The self-enclosed TIJ cartridges are easily replaced and dramatically reduce downtime for cleaning and maintenance, according to RSI's chief technology officer, Mark Gordon.
For Hailong, HP ink-jets and RSI's modular machine design also allow for faster time to market, as well as reliable printing. There is no need to design an entirely new print system when printing requirements change. RSI's modular design approach allows customers to make the initial investment for a print system that could be for 2 in. or 4 in. of print. As print requirements grow, the system could be scaled up to a maximum of 16 in. of print with few other changes to hardware or software. The result is an adaptable printing system that supports growing customer business needs.
RSI has leveraged HP TIJ specifically to suit track-and-trace applications, such as PIATS. One of the most important facets in any track-and-trace application is the quality of the printed bar code. HP TIJ technology prints superior 1D and 2D bar codes, up to 600 dpi, on both porous and nonporous surfaces with specially designed HP inks. RSI additionally incorporates features such as patent-pending Variable DPI™, nozzle flipping, and electronic stitching, which enhance the print quality and versatility of the system while reducing ink consumption.
To satisfy PIATS, Hailong had to produce a high-density 7-mL GS128 bar code with 20 to 24 characters within a 1 ¼-in. zone. This is a difficult task and could only be achieved by working with HP and RSI. "For small, high-density bar codes like PIATS to scan reliably," explains RSI's Gordon, "we optimize print resolution based on the bar code. Resolution affects both bar-code length and scannability."
Gordon points out that for indexed variable data applications like track-and-trace to work well, it's more than a matter of just the mechanics of printing; synchronized dataflow is critical, otherwise the wrong bar code goes on the product or package. RSI's controller uses a single-message buffer, which keeps production-speed printing in synch with data.
In light of rapidly changing track-and-trace regulations, it's also important for printing systems to integrate easily into customer databases, computer systems, and PLCs. RSI supports custom interfaces, as well as TCP/IP, Ethernet IP, serial and OPC.
"The advantages of HP TIJ technology include ease of operation, which removes the need for specialized training prior to operation. There is also a low initial investment outlay and total visibility of costs per print. In addition, the ink is incredibly versatile," says Hailong. "These four advantages mean that the technology's market prospects are good. We believe that through the research and development of new inks, HP TIJ print systems will be even more widely adopted in China. In terms of technology, among products using HP TIJ, RSI's boasts the best stability, fastest speed, and greatest adaptability."
Fit for the future
The experience RSI and Hailong gained from HP technology is helping them produce fine pitch bar codes and given them the ability to successfully apply these bar codes to products of all shapes, sizes, and materials. This makes it possible to track the circulation of any product, thus facilitating its recall, should there be a problem. Individual products can also be traced to allow consumers to verify the authenticity of the product.
"China is set to extend PIATS to liquor, cigarettes, cosmetics, fertilizers, pesticides, and flour, which means there will be greater scope for ongoing partnership with RSI," says Hailong. "It is our hope to work more closely with RSI and HP to increase our sales in the Chinese market. In addition, this product has a lot of potential for research and development."
Companies in this article