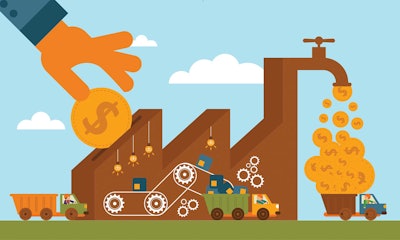 Manufacturers spend millions of dollars every year replacing failing automation components, yet often find their processes work no better than they previously did. So how do you justify the value of that investment? Over the next few months, we'll explore—from start to finish—how to break the cycle of failure and achieve better value from your automation investments.
In this, the first of our four-part series, we talk to experts about how to determine the value in new automation spending, and also how engineers and plant managers can determine which areas to focus on first.
The technological advances in automation technology often go unused when new devices are installed to replace failing components. In some respects, it's like buying a smartphone and using it only to make phone calls. If you never take photos, send a text message, deposit checks or surf the Internet, then you're not even coming close to taking full advantage of its capabilities.
That's the situation many companies find themselves in despite spending significant amounts of money on automation products every year to keep their systems functioning. Most manufacturers use only 30-40 percent of a modern automation system's capabilities, the result being that plants today—even those running on new technologies—are operating no better than they were with their old devices.
For nearly a decade, since the economic implosion in 2008, companies have been using replacement parts as a stopgap to keep production going and delay major investments. But that strategy could be nearing its end of life, along with increasingly obsolete automation systems. Massive downsizing in the U.S. manufacturing workforce over the past two decades, whether through layoffs, offshoring or retirements, compounds the problem.
"Overall headcount reductions have decimated plant workforces, which means there are fewer engineers, production supervisors, maintenance and technical support personnel to stay ahead of technology advances," says Steve Malyszko, president and CEO of system integrator Malisko Engineering, a member of the Control System Integrators Association (CSIA).
So if your current technology is causing too many problems, nearing the end of the road or limiting your ability to achieve business objectives, how can you maximize returns when you do invest in new automation?
Ready, fire, aim doesn't work in war any more than it does with automation projects. System integrators and automation suppliers point to the rules of engagement for achieving greater value from automation investments. The task of finding out what to spend, and where to spend it, invariably starts with a set of questions.
How is your process working?
It's essential to establish a baseline by analyzing your current operations and how they function. This allows you to focus your investments on achieving greater returns from company assets.
"Until you can understand what's going on inside your production process, you can't know what direction to take in making new automation investments," says Charlie Norz, I/O product manager for Wago. "That's why data gathering and analysis have become so important."
Analyzing the flow in the process also helps. Will Aja, vice president of customer operations for CSIA member Panacea Technologies, recommends talking to operators to understand how the flow works and how the system was designed.
"You also need to look at the system's components and whether you're taking advantage of the technology already in place," Aja adds. "Many upgrades just take the brains of the previous system and put them in new plastic. You end up transferring a lot of dead code. It doesn't really improve how the process works."
Where is your plant at risk?
As the needs of your business change, it's essential to identify where current systems won't be able to meet new requirements. What are the greatest risks to achieving your production and cost goals? Consider a three- to five-year investment-planning horizon when analyzing your existing infrastructure.
Manufacturing infrastructures are now so old, everybody's looking for direction, according to John Riess, global marketing lead for Integrated Architecture at Rockwell Automation. "The ability to respond to business challenges is constricted by legacy equipment that isn't flexible or productive enough, suffers too much downtime, takes too long for changeovers, uses too much energy, or has component availability and gray market quality issues," he says. "You need to invest to overcome these inefficiencies and reduce the risks to your business."
Risk mitigation also involves evaluating the cost to your business if a critical system were to fail in the future. "The easiest risk to identify is when something is no longer working or components are no longer available," says Stefan Werner, marketing manager for factory automation at Siemens. "Then you can set priorities based on how important that system is to overall production."
Better diagnostics are key to any optimization effort because they can tell you where your process needs to be more efficient. "There's a huge difference between migrating and modernizing," adds Keith Moreland, manager of product marketing for the TIA Portal at Siemens. "When you migrate to a new version of a component, you don't necessarily achieve any production improvements. Modernizing, on the other hand, can help you increase data collection and achieve greater productivity at lower cost. You have to look at the ROI. If you stick with legacy systems by just replacing parts, at some point you will be forced into an emergency migration or modernization. It's easier and less risky to plan for modernization so that you can take it in steps."
What are you trying to fix?
It makes sense to target the dysfunctional systems that are hard to work with, most often responsible for unplanned shutdowns, adding to production costs, or barriers to achieving potential new business opportunities. The first step is to find the root cause of a problem.
Aja points to a client who wanted to rip out their old control system because they didn't like it and it didn't work. "We spent eight weeks evaluating it and found out the problem was the way the process was designed," he says. "Many of the problems were related to mechanical systems and piping that weren't right for the process they were using. By changing those instead of replacing the control system, it saved a lot of money and time in what was originally going to be a multimillion-dollar project."
Where can you improve efficiency?
The more efficiently your operations run, and the lower the cost, the greater the return from your production infrastructure. It's why companies have begun to more closely monitor their systems, looking for ways to make them more reliable and productive. It's also why networking, wireless technology and cybersecurity have become so important.
Manufacturing is just starting its evolution into the digital world, says Rich Carpenter, chief technology strategist at GE Digital. "The first step is to get devices connected to the Internet of Things so you can have visibility into the plant and gain insights you can use to achieve stable operations," he says. "That's essential so you can move on to the next phase: optimization. Often, it's necessary to do that in parallel with existing systems because you still need to keep producing."
The insights you gain will be invaluable in helping you improve the efficiency of your operations, Carpenter says. "While no one will ever be able to achieve 100 percent efficiency in their manufacturing infrastructures, world-class efficiency is considered to be 85 percent. Most companies are in the 60 percent range, so there's lots of room for improvement," he adds. "The goal should be to get 100 percent of your manufacturing infrastructure working at 70 percent efficiency rather than 10 percent working at 100 percent efficiency."
Are you measuring for value?
It doesn't always take connecting to the Internet of Things (IoT) to link production process data to business value.
"At the most basic level, even a DCS system installed in the 1970s can provide data on how much material is consumed by your process in an hour," says Peter G. Martin, vice president of business value consulting at Schneider Electric. "From there, it's easy to calculate the cost of that material. Once you add in labor, energy and other related costs, you've got a baseline against which to measure process performance before and after, which allows you to calculate the return on an automation investment."
If your business needs a more sophisticated approach, start by measuring variances in your process, says David McCarthy, president and CEO of CSIA member TriCore. "Measuring even small variances can uncover a huge amount of value, particularly in high-volume industries like food and beverage," he says. "You can only control a process as finely as you can measure it. To optimize a process, your infrastructure has to work in three layers—control, visualization, and business and engineering intelligence."
TriCore recently tracked variances on 56 production lines across 16 milk plants. The information was used to tighten process controls, enabling a slight reduction in the amount of material needed to make each jug. The result was $4 million in savings and a four-month payback.
"It's a technique that allows you to dig deep into the data and track variances over a period of time—even small ones you might not notice on a daily basis," McCarthy explains. "Using it to measure all kinds of activities can achieve a big impact for both preventive maintenance and optimization."
Are you allying with finance?
Build a solid business case for automation investments by focusing on projects that will help your company maximize productivity and reduce costs. Rank your wish list by potential ROI, then make those that deliver the most value your basis for budget requests.
"When on a value hunt, ask finance what costs the company the most money or restricts higher revenues and net profits," says Randy Otto, vice president of business development for ECS Solutions, a CSIA member. "Too often, engineers attempt to justify the replacement of aging automation technology with one argument: If the system fails, the plant shuts down. While this argument is correct, it's not aligned with the company's financial goals."
Prioritizing is easy when identifying projects with their financial numbers instead. The projects with the highest dollar return in the shortest time can be considered first. If the justification is written in alignment with the finance group, the project has a greater chance of being approved.
"Every year, an amazing amount of preliminary work is expended to identify, research, price and budget improvement projects. When a project gets cut, all that work is lost," Otto notes. "So you have to focus on those projects most likely to be implemented; that deliver the greatest value to the company."
A necessary second step is to identify specifically what can be done for the justification dollars available. "This requires insight into the process, how it currently works, what technology is available, what it costs and what improvements can be expected," Otto says.
Are you seeing the trees or the forest?
Finding value often requires a reevaluation of your current processes to discover a more efficient means to the end.
Mark Sobkow, vice president for manufacturing solutions at CSIA member RedViking, says there's "real value in asking 'dumb' questions like, 'Why do you do it that way?'" That was the starting point at a jet engine manufacturer, where RedViking was able to combine 30 different operations spread across 15 stations into three automated assembly stations.
"Looking at the big picture allows you to reenvision the process, which can potentially save your company millions of dollars," says Rod Emery, RedViking's vice president of operations. "It also makes it easier to evaluate the merits of a project in terms of whether the proposed changes will deliver value to your business."
Emery adds, "Some companies appropriate their budgets based strictly on new product launches and have little concern with scrapping things like AGVs every year, buying new when their products change. But others make sure their automation solutions are for the long haul. They look for long-term value and consider the whole cost of a system, including maintenance, repair, downtime, training and injuries. When you do that, you stop looking at just replacing machines and start seeing it from a bigger perspective."
Can you control the timing?
There's nothing worse for stable business operations—or an engineer's reputation—than being forced into a major investment when there's a sudden breakdown in existing systems.
"Production facilities need to strategically invest to maintain their automation infrastructure," says Sean Sims, vice president of lifecycle services at Emerson Process Management. "Process infrastructure has a 20-40 year lifespan, so sooner or later you'll need to modernize. Companies that operate with a run-to-failure strategy end up spending even more because failing to maintain systems shortens the lifespan of their capital investment. It also subjects them to unplanned downtime. It's essential to control the timing and the cost of modernization, so we try to help customers make the right investments at the right time."
The goal should be to extract the maximum value from your current systems, Sims adds. "That's why we're starting to see companies put a lot of effort and resources into measuring process productivity," he says. "The more knowledge you can extract from your process, the better you'll be able to improve its performance and extend its life. Using sensors and wireless communications to step up monitoring, for example, can improve process visibility so they don't get caught flat-footed by unanticipated equipment failures or degraded performance."
Sims points to an Emerson collaboration tool that helps operators, supervisors and maintenance improve operational effectiveness. "The most risk-laden time of the day is when shifts change. The electronic logbook in our DeltaV distributed control system lets everyone know what happened within the process during the previous shift and provides a context for future activity by the next operators," he says. "By making small, well-timed infrastructure investments you can transition your automation infrastructure to the next technology stage with less risk and at your own pace."
Access the other installments in this 4-part series on the value of automation:
Companies in this article