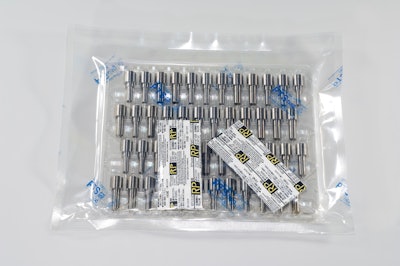 Manufactured in Japan, this unique packaging solution is designed to safeguard electronics, automotive parts, and industrial components from rust and oxidation.
Mitsubishi's RP System is the only product on the market that combines oxygen and moisture protection, effectively enabling parts to be stored for years in pristine condition. It works by placing target items into a gas barrier bag that withstands oxygen and moisture penetration. A customized RP agent composed of oxygen- and moisture-absorbing compounds is inserted into the bag. An oxygen indicator can also be included to measure oxygen levels. The bag is then hermetically sealed to create an oxygen- and moisture-free environment, in some cases for up to 10 years.
Designed for long-term preservation, the packaging technology provides manufacturers with unique cost savings and a potential "green" option by enabling fewer large-scale, energy-intensive factory runs. For example, suppliers can store parts for later use, making it possible to stock items and conduct fewer production runs. This reduces pressure on suppliers who must contend with extended shipping delays and labor shortages currently affecting the global supply chain. Enabling parts to arrive in mint condition without having to clean or rework them results in fewer returns, cuts down on loss due to damage, and leads to lower carbon emissions and greater efficiency.
Companies in this article