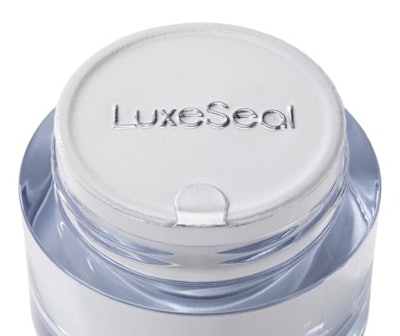 A new proprietary, embossed, induction-seal liner, with a folded pull tab, provides multiple "firsts" for cosmetics, skin care and other personal care items marketed in polyethylene (PE), polypropylene (PP) or polyethylene terephthalate (PET) containers. Luxe seal liners, from Tri-Seal, a TekniPlex company, provide marketers with another branding surface, and consumers with an "ease-of-use" feature.
"Luxe seal aluminum-foil/foam liners were developed to provide a feature-rich alternative to traditional disc seals. In addition to improved function and safety, they also are an ideal packaging component for those seeking differentiation for their brand. The Luxe seal liner solution even makes it possible for marketers to eliminate folding cartons for some applications," says David Andrulonis, Senior Vice President and General Manager, Tri-Seal.
Standard disc liners do not provide tamper or pilfer evidence. Because Luxe seal is applied via an induction seal, which secures the liner onto the PE, PP or PET container rim, tamper and pilfer evident attributes are now possible. To access the contents, consumers pull up on a folded tab which allows quick and easy liner peel off removal without leaving residue behind.
"Luxe seals also can be embossed with no color, or with silver or gold cold-foil stamping to support brand objectives. This printing feature can vividly stand out through a translucent closure. This capability telegraphs an upscale visual cue to consumers and provides another reminder that they have purchased a product of distinction," says Andrulonis.
For those brand owners who are looking to reduce packaging costs and improve their environmental profile, the new Luxe seal induction seal liner also makes it possible to remove folding cartons from the packaging mix.
"With the number of products being fulfilled via e commerce continuously increasing, brand owners may no longer consider a folding carton to be an important component in their marketing strategy. The Luxe induction seal capability prevents the contents from leaking during handling and shipment. This means that the jar can be shipped in a padded mailer or small corrugated case without a folding carton," Andrulonis says. "We also expect applications in other markets, such as food and beverages, in the future."
Companies in this article