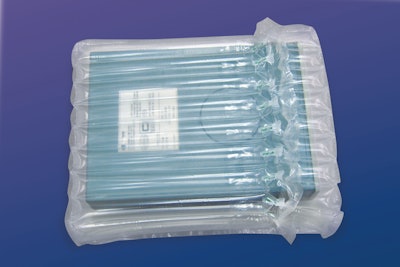 ChamberPak's patented design features a series of adjoining air tubes that are securely inflated to cushion and protect products during shipment. The tubes are connected via a series of patented one-way valves. If one chamber is punctured, the others remain inflated. Made from a coextrusion of low-density polyethylene film and nylon, ChamberPak also has superior air retention.
Overall packaging costs can be reduced as much as 45%, according to the company. ChamberPak ships flat, which offers shipping and storage benefits compared to expanded polystyrene or molded pulp structures. Twenty thousand ChamberPaks can fit on one skid compared with a couple hundred sets of EPS or molded pulp types. This also helps reduce fuel consumption and carbon emissions.
Deflated/flattened ChamberPak structures create less solid waste compared with molded EPS and foam-related materials. Secondary packaging size can be reduced to save materials and reduce waste. Transport cube of the final package also is reduced offering yet another environmental benefit.
ChamberPak is inflated through an external valve in seconds, making it easy-to-use. Air travels through a sequence of air chambers, which expands the package to its intended size. The package is then loaded into a carton for shipping. ChamberPak is transparent, providing quick and easy identification of the contents. Additionally, it can be reused, further extending its cost-effective profile.
The nine new stock sizes range from 6.5- x 6.25-in. for smart phones to 17.5- x 29.75-in. for 17-in. laptops. Tube widths vary from ½- to 2-in. Pregis offers additional custom and stock ChamberPak solutions for a variety of product and market applications including wine/beverages, cosmetics, pharmaceuticals, giftware, automotive aftermarket, toner cartridges and ecommerce.
Companies in this article